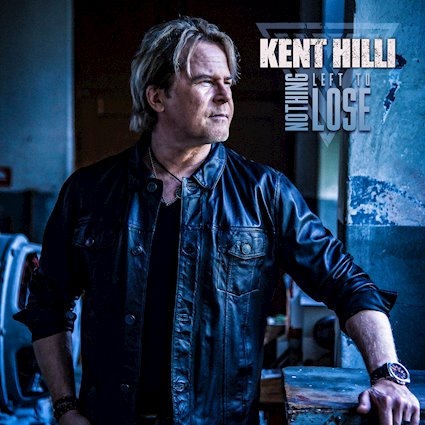 KENT HILLI
Titel: NOTHING LEFT TO LOSE
Spieldauer: 50:16 Minuten
VÖ: 04. August 2023
Der schwedische Sänger KENT HILLI hat sich in den vergangenen Jahren zu einem bekannten Vokalisten im Bereich des Melodic Rock gemausert und 2021 sein Solodebüt "The Rumble" veröffentlicht, dem er nun den Zweitling "Nothing Left To Lose" an die Seite stellt.
Diese folgen starken Alben mit seinen beiden Bands Giant und der aktuellen Scheibe "Shifting Time" (2022) und Perfect Plan ("Brace For Impact", 2022) sowie den Melodic Rock Projekten Restless Spirits ("Second To None") mit Tony Hernando und an der Seite anderer Vokalisten wie Chez Kane, Renan Zonta und Johnny Gioeli sowie bei den T3nors gemeinsam mit Robbie LaBlanc und Toby Hitchcock.
Hilli steht für meist schwungvollen, soften AOR/Melodic Rock Sound mit einem geschüttelten Maß an Synthiepower und seiner einzigartigen Powerstimme.
Das zeigt bereits zum Einstieg der ausgekoppelte Opener `Too Young´ sowie das folgende `Nothing Left To Lose´ mit Gastbeiträgen des finnischen Songwriters und Produzenten Jimmy Westerlund (One Desire), der die neue Scheibe auch produziert hat, und Drummer Kai Hahto (Nigthwish, Wintersun).
Eingängige, flotte Nummern wie `A Fool To Believe´ und `Start It All Over´, der packende Ohrwurm `Heard It All Before´ oder die stadiontaugliche Hymne `Stronger´ und gefühlvoller, kuschelweicher Stoff halten sich unter den elf neuen Tracks in etwa die Waage.
Dabei erweist der Protagonist sich als wahrer Meister schmusiger Schmachtfetzen wie `Every Time We Say Goodbye`, `Does He Love Like Me´ und dem abschließenden `Only Dreaming´, die stets melodisch, angenehm und eingängig und immer mit viel Power und Emotion vorgetragen werden.
Musikalisch und produktionstechnisch gibt es hier sowieso nichts auszusetzen, da sowohl vor als auch hinter den Kulissen echte Könner am Werk sind. Neben dem bereits genannten renommierten Produzenten seien hier exemplarisch nur die Backing Vocals von unter anderem Kristian Fyhr (Seventh Crystal, Ginevra) und Rick Altzi (At Vance, Masterplan) erwähnt.
Das alles macht "Nothing Left To Lose" zu einem exzellenten Genrevertreter ohne Ausfälle, allerdings auch ohne die ganz großen Glanzlichter, aber auf einem insgesamt hohen musikalischen, songwriterischen und vor allem gesanglichen Niveau.
Michael Gaspar vergibt 8 von 10 Punkten