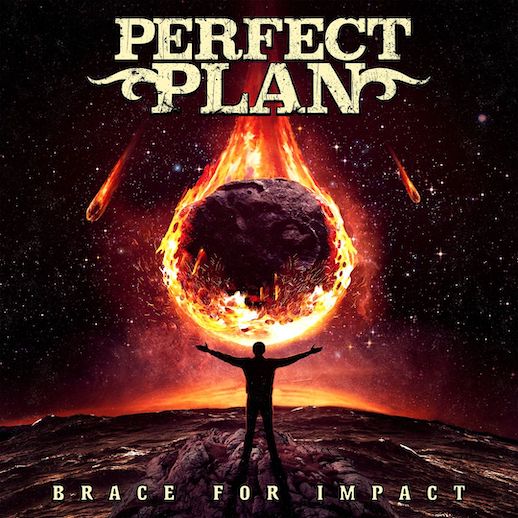 PERFECT PLAN
Titel: BRACE FOR IMPACT
Spieldauer: 53:51 Minuten
VÖ: 14. Oktober 2022
Hier geht es um den dritten Longplayer "Brace For Impact" einer weiteren sehr erfolgreichen Spielwiese von Giant-Frontmann und Solokünstler Kent Hilli. Gemeinsam mit seinen Band- und Songwriterkollegen zelebriert der Schwede im Fünferpack mitreißenden skandinavischen Rocksound zwischen Hardrock, Melodic Rock und AOR.
Während einige der neuen Songs auch leicht progressiv, andere ein wenig bluesig angehaucht sind, fallen die Stücke im Durchschnitt etwas härter als auf den Vorgängeralben aus. Zudem ist nur eine "echte" Ballade vorhanden, die allerdings zu den absoluten Glanzlichtern der Scheibe zählt.
Das gefühlvolle und wahnwitzig gut gesungene `My Angel´ muss von seinem Schöpfer für einen sehr besonderen Menschen in seinem Leben geschrieben worden sein. Wie ich überhaupt nur Songs aus der zweiten Hälfte der Scheibe nennen möchte, wenn es um Anspieltipps oder Besonderheiten geht, zu denen eben auch die genannte Ballade gehört.
So kommt es dann auch, dass hier ausnahmsweise mal keine der vorab ausgekoppelten Singles zur Sprache kommt, die es aber natürlich auch alle samt und sonders wert sind, näher betrachtet zu werden.
Nennen möchte ich jedoch zuerst das druckvolle, beinahe bedrohliche `Stop The Bleed´ mit seinem zudem sehr engagierten Text, das ironisch-launige und leicht bluesige `Devils Got The Blues´ sowie das wilde, AOR-lastige `Bring Me A Doctor`.
Zudem dürfen das hymnisch-majestätische `Still Undefeated´ und die emotionale, melodisch-eingängige Fast-Ballade `Emelie´ nicht unerwähnt bleiben.
"Brace For Impact" ist ein durchweg starker, abwechslungsreicher Melodic Rock Kracher mit Melodie, Frische und Energie sowie einem brillant aufgelegten Frontmann, von der seltenen Sorte, die einen bereits sehr guten Song noch besser macht.
Michael Gaspar vergibt 8,5 von 10 Punkten