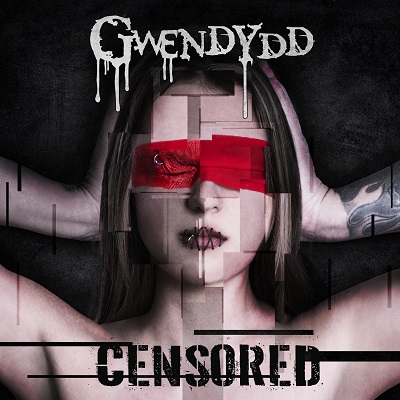 Label: DRAKKAR ENTERTAINMENT
Spieldauer: 31:46 Minuten
VÖ: 06. Mai 2022
Entdeckt wurde GWENDYDD-Frontfrau Victoria Stoichkova in einer TV-Castingshow, als sie den Taylor Swift-Hit `Look What You Made Me Do´ mit ihren Growls zer- und das Studio in Schutt und Asche legte.
Gemeinsam mit Produzent, Songwriter, Drummer und Freund Nikifor "Bambi" Nikiforov und den Musikerinnen Tina Zhelyazova (Gitarre), Reni Angelova (Gitarre) und Bassistin Sonya Radeva nahm sie das Debüt "Human Nature" auf und legt nun mit ihrem Zweitling "Censored" nach.
Erneut präsentiert der Fünfer seine Version und Vorstellung von modernem, aggressivem Extreme Metal. Und wenn man die brutalen Vocals, wütenden Lyrics und den oft gnadenlos ballernden Sound hört, kann man die sich Bahn brechende Wut, Frustration und Verzweiflung einer jungen Band aus der Hauptstadt des ärmsten Landes der EU förmlich hören.
Schon beim Intro mit anklagender Mädchenstimme und Spieluhrklängen, die im Opener `Martyrdom´ wieder aufgegriffen werden, gefriert dem Hörer das Blut in den Adern. Der brutale Death/Extreme Metal Soundtrack setzt sich mit `This Is A War´ und der etwas verspielteren, aber nicht minder wütenden Vorabsingle `Rape´ übergangslos fort.
Im Folgenden wird es ein wenig "melodischer" und abwechslungsreicher und Tracks wie `Spider´ und `Dreadful´ erinnern eher an aggressiven Groove Metal der Marke Once Human oder The Agonist. Das grandiose `One Step More´ offenbart facettenreiche, duettartige Vocals von Vicky und Bambi sowie männliche Growls und einen mehrstimmigen, cleanen Chorus.
Das mächtige `A Hypocrite In A Child´s Eyes´ wird durch cleane, ruhige weibliche Vocals ein wenig "entschärft". Das folgende `We Are The New Order´ überrascht mit dubstep-artigem Beginn sowie arabischen Soundeffekten und zeugt textlich von einer reflektierten, informierten und wütenden Sicht des Weltgeschehens.
Sehr gutes, rabiates Zweitwerk mit starken Lyrics und kurzweiligen, variablen Songs oder wie die Info es formuliert: "a genuine and brutal soundtrack to the disparity of reality, hopes, and dreams".
Michael Gaspar vergibt 7,5 von 10 Punkten