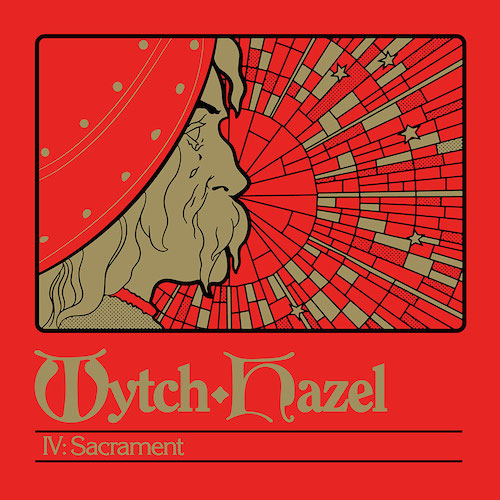 WYTCH HAZEL
Titel: IV: SACRAMENT
Label: BAD OMEN RECORDS/METAL BLADE RECORDS
Spieldauer: 43:04 Minuten
VÖ: 02. Juni 2023
Geht es nach der landläufigen Meinung stehen die englischen Oldschool Rocker von WYTCH HAZEL vor entscheidenden Wochen ihrer noch jungen Karriere, denn mit "IV: Sacrament" schlagen sie, der Titel verrät es bereits, das vierte Kapitel ihrer Bandgeschichte auf.
Auch auf dem vermeintlichen "make it or break it" Album steht der Vierer um Mastermind Colin Hendra (Vocals, Gitarre, Drums) für 70er und 80er orientierten regressiven Metal mit einem Schuss Melancholie, aus dem eine Art eingängiger Proto Hardrock entsteht.
Hier stehen hörbar alte Heroen wie Angel Witch, Jethro Tull, Uriah Heep und andere Spalier, wenn wenn es darum geht, Vorbilder, Referenzen und Einflüsse zu benennen. Und der musikalische Spagat zwischen Steeleye Span und Judas Priest gelingt.
Eine weitere Besonderheit der Truppe aus der im Nordwesten Englands liegenden Grafschaft Lancashire sind die christlich-bilbisch inspirierten Texte, die sicherlich nicht Jedermanns Sache sind. Im Kern sind diese aber weder belehrend noch missionarisch, sondern wirken auf mich authentisch und aus der Überzeugung geboren.
So sind dann also Songtitel wie `Angel Of Light´, `Time And Doubt´ und `Endless Battle´ in diesem religiösen Kontext zu sehen und verstehen. Passenderweise entstand die Scheibe in einem walisischen Studio, welches sich in einer ehemaligen baptistischen Kapelle befindet.
Der Silberling wurde zur wahren Mammutaufgabe für den Vollzeit arbeitenden Hendra, der sich als Ehemann, Vater und Kontrollfreak in Personalunion bezeichnet. Doch "Blut, Mühsal, Tränen und Schweiß" haben sich gelohnt, denn ähnlich wie sein direkter Vorgänger "III: Pentecost" (2020) entpuppt sich der neue Dreher als ein kleines Hitfeuerwerk.
Bereits der melodische Einstieg `The Fire's Control´ geht mächtig ins Ohr, aber WYTCH HAZEL lassen, neben den bereits genannten, weitere Ohrwürmer wie `Deliver Us´ und `A Thousand Years´ folgen.
Nach dem eher balladesken, aber nicht minder packenden und gelungenen `Endless Battle´, sorgen das melancholische und ungewöhnlich optimistische `Future Is Gold´ sowie das nachdenkliche `Digging Deeper´ für einen intensiven aber weniger eingängigen Abschluss einer großartigen Platte, welche die Chancen für den endgültigen Durchbruch nicht allzu schlecht aussehen lässt.
Michael Gaspar vergibt 8,5 von 10 Punkten