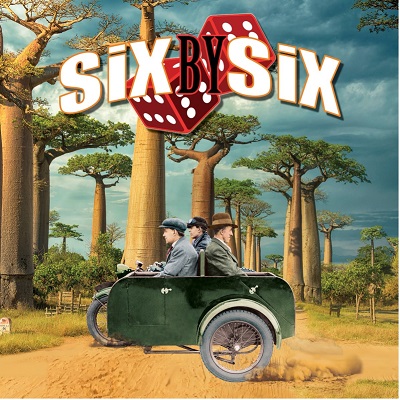 SIX BY SIX
Titel: SIX BY SIX
Spieldauer: 46:48 Minuten
VÖ: 19. August 2022
Bei "Six By Six" handelt es sich um das Debüt des gleichnamigen neuen Projekts. Das namhafte Trio besteht aus Gitarrist Ian Crichton (Saga), Drummer Nigel Glockler (Saxon) und Robert Berry (3; Emerson, Berry, Palmer), der für Bass, Keyboards und Vocals zuständig ist.
Bei dieser Besetzung in der Schnittmenge von 80s AOR Mainstream, MWOBHM und Progressive Rock birgt die stilistische Ausrichtung keine Überraschungen, denn packende Melodien, filigrane Instrumentalarbeit und hymnische Vocals bestimmen die Szenerie.
Aber vor allem sind der Opener `Yearning To Fly´ und der anschließende Ohrwurm `China´ richtig richtig gute Songs. Mit dem überlangen `Reason To Feel Calm Again´ wird es dann noch eine Nummer vertrackter und anspruchsvoller, bevor die ultra-kurze Ballade `Live Forever´ simpler, reduzierter und intensiver kaum sein könnte.
´The Upside of Down´ und das treibende ´The Last Words on Earth´ überzeugen mit mitreißenden Refrains, `Skyfall´ und das abschließende `Save The Night´ gehen ein wenig "härter" zur Sache.
Kraftvolle Gitarrenarbeit, dezente Keyboards und ein Haufen guter Songs sorgen für eine imposante, unerwartete Debütscheibe der drei musikalischen Veteranen mit viel Können, Spaß und Spielfreude.
Michael Gaspar vergibt 8 von 10 Punkten