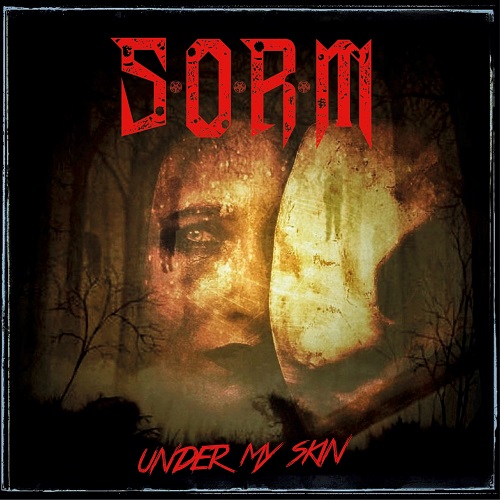 S.O.R.M.
Titel: UNDER MY SKIN
Spieldauer: 53:30 Minuten
VÖ: 25. August 2023
S.O.R.M. sind ein 2017 gegründeter Hardrock/Heavy Metal Act aus dem schwedischen Lidköping. Nach der "Hellraiser" EP (2020), die unter anderem auch die eingängige "Hitsingle" `Gypsy Queen` enthielt, wird es nun also höchste Zeit für das Debütalbum "Under My Skin".
Das Trio aus Micke Holm (Guitar and Vocals), Johan Östman (Bass) and Robin Wernebratt (Drums) zelebriert Heavy Rock an der Grenze zum Metal, fast immer heavy und energiegeladen, rifflastig und dynamisch, aber auch mit packenden Melodien und treffenden Hooks und Refrains.
Da darf man sich von der deathmetalartigen Optik der Bandmitglieder und dem ein wenig finsteren Coverartwork also nicht auf die falsche musikalische Fährte locken lassen. Lediglich eine gewisse melancholische Düsternis wird hier verkörpert und wohnt auch dem einzigartigen und kurzweiligen Sound der Truppe inne.
Dieser hat allerdings auch flotte, hookige Rocker wie den Opener `Hellride´ und das smoothe, death `n´ rollige `Shotgun Jonny´ mit seinem Mitsingchorus zu bieten, aber auch völlig unbeschwerte Nummern wie das folgende `Die For My Rock 'N Roll´ mit einem Gastbeitrag von Gitarrist Nick Petrino (Dee Snider) und ` Too Hot For Your Love´.
Dem gegenüber stehen düster-melancholische Kompositionen wie `Dark World´ und das balladeske `Demon Child´. In dem Zusammenhang fällt auf, dass ich die eingängige, ein wenig nichtssagende Single `Crazy´ definitiv als einen der schwächsten Songs des Drehers bezeichnen würde.
Apropos Melancholie, apropos Ballade: es folgt die akustische, Gänsehaut garantierende Abschiedselegie `In Peace´, welche sofort wieder von der energetischen Nummer `Ready To Fly´ abgelöst wird.
Das starke Schlussdoppel aus dem mit einer leider im Unbekannten verbleibenden Sängerin vorgetragenen, eindringlichen Duett und Titeltrack `Under My Skin´ und dem flotten Rausschmeißer `Crash And Burn´ beschließt den bockstarken Silberling.
Abwechslungsreiches Granatendebüt mit hervorragenden Songs und einem komplett eigenständigen Soundmix zwischen Danko Jones, Buckcherry, einem Schuss Evergrey und späten Sentenced.
Michael Gaspar vergibt 8,5 von 10 Punkten