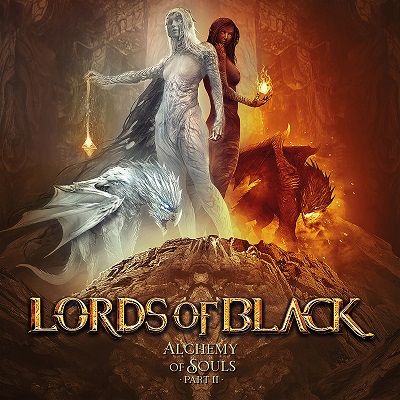 LORDS OF BLACK
Titel: ALCHEMY OF SOULS PT. II
Spieldauer: 66:07 Minuten
Masterminds hinter der 2014 gegründeten Metalband LORDS OF BLACK sind der Songwriter, Komponist und Gitarrist Tony Hernando und Frontmann Ronnie Romero (Rainbow, MSG). Gemeinsam mit Dani Criado (Bass) und Jo Nunez (Drums) veröffentlichen sie nun ihren fünften Longplayer "Alchemy Of Souls Part II", den Nachfolger zum letztjährigen ersten Teil.
Das spanische Quartett fabriziert im Wesentlichen eingängigen, melodischen Metal, der ab und an ein wenig in Gefilden des Power, Prog oder gar Symphonic Metal wildert. Nach dem kurzen Intro und dem soliden 'Maker Of Nothingness' folgt mit den beiden Vorabsingles 'What´s Become Of Us' und 'Bound To You' ein megastarkes Doppelpack mit genialen Melodien und einprägsamen, eingängigen Chorussen.
Danach jedoch bewegt sich mein Zeigefinger immer wieder unweigerlich in Richtung der Skip-Taste und erreicht sie manchmal auch, denn zu ähnlich, blass und wenig reizvoll sind die einzelnen Stücke. Das ist in einigen Fällen durchaus berechtigt, wäre in anderen wie beispielsweise den flotten etwas sperrigen Tracks 'Mind Killer' und 'Death Dealer' zumindest ansatzweise unbegründet und bedauerlich.
Schade wäre es darüber hinaus um die instrumentale, leicht proggige zweite Hälfte von 'How Long Do I Have Now', die Halb-Ballade 'No Hero Is Homeless' mit packendem Solo und das abschließende, über siebenminütige Epos 'Sympathy' gewesen.
Insgesamt halten sich diese besonderen Momente aber in Grenzen und die Kompositionen sind nicht immer dermaßen auffällig und einprägsam. Zudem kann ich mich für die Stimme des Fronters nicht endgültig erwärmen, was aber hauptsächlich Gefühls- und Geschmackssache ist und nicht in mangelnder Qualität, ein wenig aber in der beschriebenen, teilweisen Gleichförmigkeit der Songs begründet liegt.
Michael Gaspar vergibt 6,5 von 10 Punkten