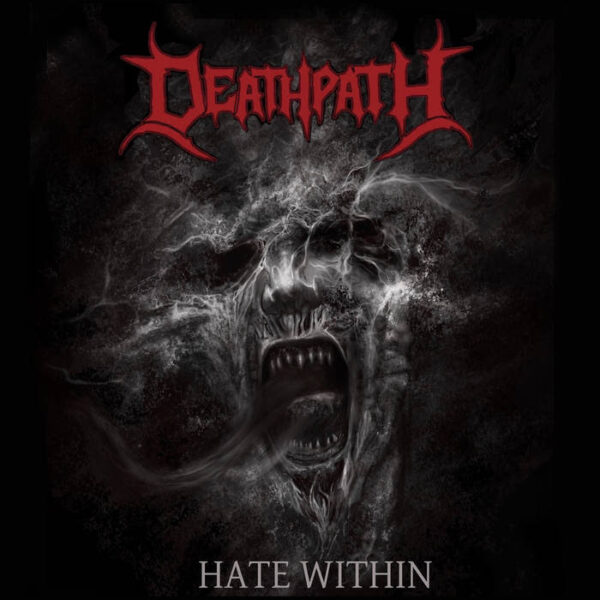 DEATHPATH
Titel: HATE WITHIN
Label: Kvlt und Kaos Productions
Spieldauer: 51:50 Minuten
VÖ: 09. Dezember 2022
Die spanischen Old School Todesmetaller von DEATHPATH gründeten sich im Juli 2016 in Palma, Mallorca. Nach einer ersten Orientierungsphase und Besetzungswechseln bekamen sie im Herbst 2017 erste Gigs und verdienten sich schnell einen Namen in der lokalen Szene. Das neue Album "Hate Within" wurde Ende 2021 aufgenommen. Abgemischt wurde es von Michael Hahn in den Rosenquarz Studios in Lübeck. DEATHPATH sind Vocals: Mario "Bastard" Christiansen, Lead Guitar: Biel Marin, Rhythm Guitar: Frank Pietsch, Bass: Floren Betti und an den Drums Jordi Catany.
"Hate Within" eröffnet mit einem fast 2-minütigen Intro und geht dann über in ´Warmachine´ und ´Morbid Masquerade´ über die sich Anhänger von gepflegten Old School Death Metal freuen werden. Mit schön rotzigen Vocals von Mario "Bastard" Christiansen, fett ballernden Drums und sägenden Gitarren-Sounds treffen DEATHPATH voll ins Schwarze. Bei ´Purified´ bestätigen sich die Klampfenklänge anhand eines Solos, Blastbeats gibt es beim bösen ´Butcher – fresh Meat´ zu genüge. Titeltrack ´Hate Within´ nimmt Tempo raus, aber nur für die erste Hälfte des Songs, dann gibts wieder um und auf die Ohren. Ihrem Bandmotto "We're DEATHPATH and we speak Death Metal" machen die Jungs aus Palma/Spanien auch in den übrigen vier Songs (´Heritage Of Fear´, ´War On Holy Ground´, ´Coward Left To Die´, ´Confess´) alle Ehre.

DEATHPATH erfinden das Rad nicht neu, wissen aber, wie man es drehen muss um eine Death Metal Scheibe mit Potential rauszuhauen. Der spanische Underground hat vieles aus dem Genre zu bieten und DEATHPATH haben nach ihrem 2019er Debüt "Summoning the Beast" einen weiteren Schritt nach vorn gemacht und werden mit "Hate Within" auch Genrekenner in Deutschland aufhorchen lassen. Kaufen kann man "Hate Within" digital oder auf CD hier https://deathpath.bandcamp.com/album/hate-within.
Tobi Stahl vergibt 7 von 10 Punkten