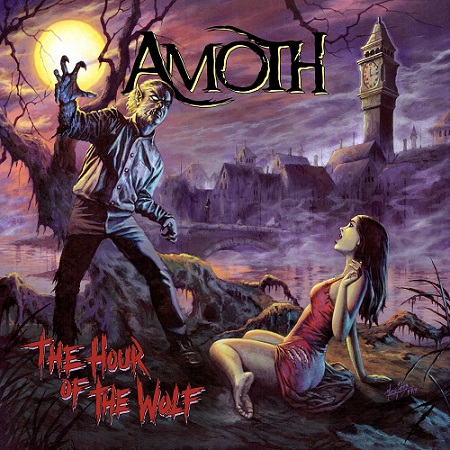 AMOTH
Titel: THE HOUR OF THE WOLF
Spieldauer: 46:35 Minuten
Die finnische Formation AMOTH bewegt sich soundtechnisch zwischen traditionellem 80er Heavy Metal mit melodisch-rockigen Ansätzen, aber vor allem einer Riesen-Prog-Schlagseite. Am Mikro steht Ensiferum-Leadsänger Pekka Montin und liefert eine beeindruckende Leistung ab.
"The Hour Of The Wolf", der dritte Longplayer der Gruppe, ist dabei tatsächlich alles andere als ein "fast-food album", sondern richtig gute Kost irgendwo zwischen klassischem Heavy Metal á la Iron Maiden oder King Diamond, knackigem Melodic Metal und rifflastigen, anspruchsvollen Leckerbissen.
Der rockige Opener 'Alice' besticht durch gute Leads und packende Vocals, wie die variable, herausragende Gesangsleistung des Fronters ohnehin nochmals über die gesamte Spielzeit herauszuheben ist.
'The Man Who Watches The World Burn' überzeugt ebenfalls auf ganzer Linie und überrascht mit einem Bass-Solo. Die Vorliebe für hochwertige Gitarrenarbeit im Stil von Steve Vai/Joe Satriani wird in den beiden instrumentalen Tracks 'Wind Serenade Part I' und 'Wind Serenade Part II' genüsslich und gekonnt ausgelebt.
Aber auch kürzere, knackige Kracher wie 'We Own The Night' oder vor allem das mitreißende 'It Ain't Over Yet' machen Lust auf mehr. Zu erwähnen sind außerdem die persönlichen, eindringlichen, durchdachten Lyrics sowie als weiterer Glanzpunkt die ebenfalls gelungene, balladeske Nummer 'Traces In the Snow'.
In den abschließenden, siebeneinhalbminütigen, epischen Titelsong wurden nochmals reichlich Melodien, Riffs und Soli sowie packende Vocals gepackt. Dieser ist zugleich sehr komplex, als auch das eingängigste Stück der anspruchsvollen, eigenständigen, ausgefeilten und abwechslungsreichen Scheibe.
Michael Gaspar vergibt 8 von 10 Punkten