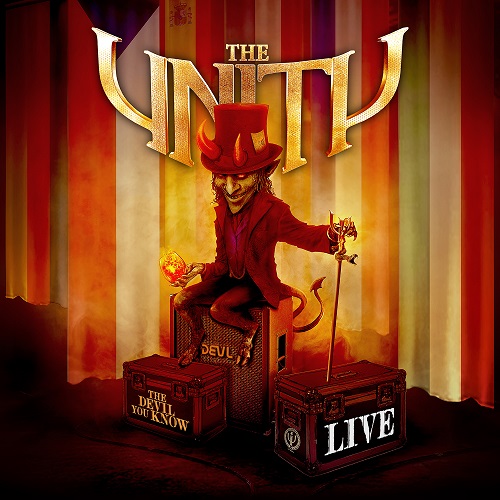 THE UNITY
Titel: THE DEVIL YOU KNOW – THE UNITY LIVE
Spieldauer: 60:03 Minuten
Die deutsch-italienische Melodic-Metal-Truppe THE UNITY bringt mit "The Devil You Know – The Unity Live" ihre erste Live-Scheibe auf den Markt. Nach nur drei Studioalben und sechs Jahren Bandgeschichte vermeintlich etwas früh, so ist dies jedoch als Gruß an und Trostpflaster für die im Lockdown darbenden und das Liveerlebnis vermissenden Fans gedacht.
Die beiden Gamma Ray-Mitglieder Henjo Richter (Gitarre) und Michael Ehré (Schlagzeug) und ihre Bandkollegen Gianbattista Manenti (Gesang), Stef (Gitarre), Jogi Sweers (Bass) und Sascha Onnen (Keyboards) haben schwerpunktmäßig Songs der Scheiben "The Unity" (2017) und "Rise" (2018) ausgewählt.
Aufgenommen wurden die zwölf Songs bei Auftritten von 2017 bis 2020 sowohl in kleinen, engen Clubs, als auch auf großen Festivals wie "Masters Of Rock" "Knockout" und beim "Bang Your Head". Die Band präsentiert sich tight und eingespielt und Frontmann Manenti zeigt wiederholt, dass er ein fantastischer, kraftstrotzender Sänger ist.
Es handelt sich um ein "echtes" Livealbum mit mitgehendem und mitsingendem Publikum, launigen Ansagen und andere Interaktionen zwischen Band und Crowd. Das Quintett legt große Spielfreude und enorme Power an den Tag und performt Kracher wie 'No More Lies', 'The Storm'' 'The Willow Tree' und die seinerzeit umstrittene Single 'We Don´t Need Them Here' kraftvoll, energetisch und wie aus einem Guss.
'Close To Crazy', ein Ausschnitt vom Auftritt beim tschechischen "Masters Of Rock" mit einem Gastauftritt von Comedy-Star Sascha Grammel, einem großen Verehrer der Band, und seiner berühmten Puppe, dem Adlerfasan Frederic Freiherr von Furchensumpf, gibt es leider nur im Video zu bestaunen, während die CD eine normale Version enthält.
Grandiose, musikalisch und produktionstechnisch makellose Live-Scheibe mit viel transportierter Stimmung und Atmosphäre, guter Songauswahl sowie einem Mega-Sänger und somit viel mehr als "nur" ein Trostpflaster!
Michael Gaspar vergibt 8 von 10 Punkten