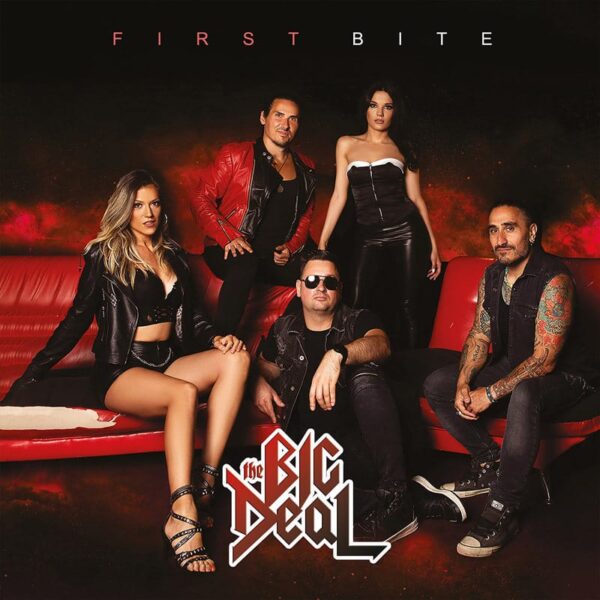 THE BIG DEAL
Titel: FIRST BITE
Spieldauer: 40:03 Minuten
VÖ: 13. Mai 2022
Das serbische Quintett THE BIG DEAL hat sich dem melodischen Hardrock verschrieben und verfügt über die Besonderheit und das Glück, mit Ana Nikolic und Nevena Brankovic, welche auch die Keys übernimmt, zwei hochtalentierte Sängerinnen in ihren Reihen zu wissen.
Gemeinsam mit  Nevena´s Ehemann Gitarrist, Komponist und Produzent Srdjan Brankovic, Drummer Marko Milojevic und später Alessandro Del Vecchio (Hardline, Revolution Saints) am Bass wurde der Debütdreher "First Bite" auf den Weg gebracht.
Dieser beinhaltet elf eingängige, einprägsame und melodisch mit einer Menge Pop-Appeal rockende Stücke, die ihre Faszination aus gutem Songwriting und der Variabilität und Abwechslung durch die  beiden Vokalistinnen ziehen.
Songs wie der Opener `Never Say Never´ und die weiteren Vorabauskopplungen `Sensational´ und `Top Heaven` offenbaren ein Händchen für catchy Melodien, stimmige Harmonien und packende Refrains. Während manches Stück eher an Pink oder Kim Wilde erinnert, geht es in `Rebel Lady´ ein wenig dunkel-verrucht zu.
Mit der Feel-Good-Nummer `Bad Times, Good Times´ und den packenden Ohrenschmeichlern `Power On´ und `Lady Of The Night´ mit ihren grandiosen Refrains sind dem sympathischen Fünfer weitere Volltreffer gelungen.
Fazit: "First Bite" liefert größtenteils gelungenen, eingängigen Rockstoff mit guten Songs und zwei tollen Sängerinnen, wenn auch manchmal die berühmten Ecken und Kanten fehlen, mit der ganz großen Kelle das Synthie-Fondant über den Kompositionen ausgeschüttet wird und Vieles übermäßig glatt und allzu sehr auf Hochglanz poliert wirkt.
Michael Gaspar vergibt 7 von 10 Punkten