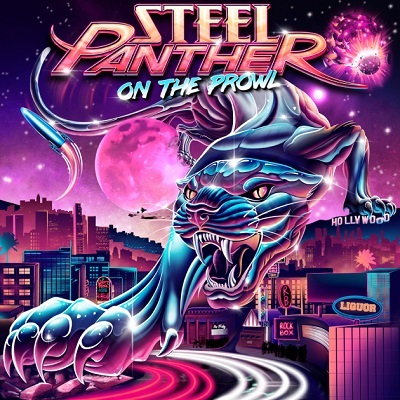 STEEL PANTHER
Titel: ON THE PROWL
Label: SONY MUSIC/STEEL PANTHER INC.
Spieldauer: 47:28 Minuten
VÖ: 24. Februar 2023
Das mittlerweile sechste, selbstproduzierte Studioalbum der kalifornischen Glam/Hair/Sleaze Metaller/Rocker STEEL PANTHER enthält dreizehn neue, von den kreativen Köpfen Satchel, Michael Starr, Stix Zadinia und dem neu verpflichteten Vollzeit-Bassisten Spyder geschriebene Tracks.
Der Eingängigkeit der Songs und den ansteckenden Riffs auf "On The Prowl" kann man sich schwer entziehen, doch die ironisch-provokativen, immer haarscharf an der Schmerzgrenze entlang tänzelnden Texte scheinen nicht mehr wirklich zeitgemäß und zumindest in Teilen übermäßig klischeebeladen.
Andererseits ist die US-Truppe nicht zuletzt für ihre wilden, tabulosen Live-Exzesse berühmt-berüchtigt, an welchen (wie man so hört) die oftmals weiblichen Fans ihren nicht unwesentlichen Anteil haben.
Während man einige Songtitel und -texte noch als augenzwinkernd und nicht ganz ernstgemeint durchgehen lassen kann, winken andere mit dem ganzen Zaun. So taumelt die Band irgendwo zwischen Parodie und Hommage durch die musikalisch wirklich gute, abwechslungsreiche Trackliste.
Einprägsame Stücke wie der energetisch-dynamische Opener `Never Too Late (To Get Some Pussy Tonight)´ und die folgenden Ohrwürmer `Friends With Benefits´ und `Magical Vagina´ treffen auf eine AOR Retro-Hymne wie das famose `1987´ und das einprägsam treibende `One Pump Chump´.
Eine ungewohnt harte, metallische Nummer wie `All That And More´ sorgt neben dem überraschend ruhigen `Pornstar´ und dem ebenfalls eher zurückhaltenden `On Your Instagram´ für Abwechslung. Gleiches gilt für die nachdenkliche Countryballade `Ain´t Dead Yet´.
Somit ist "On The Prowl" unter dem Strich ein kurzweiliger, jedoch wenig nachhaltiger Silberling mit einigen guten Songs, aber ohne die wirklich großen Hits und mit ihrem etwas abgenutzten, übertriebenen und nicht immer richtig witzigen humoristischen Ansatz.
Michael Gaspar vergibt 7 von 10 Punkten