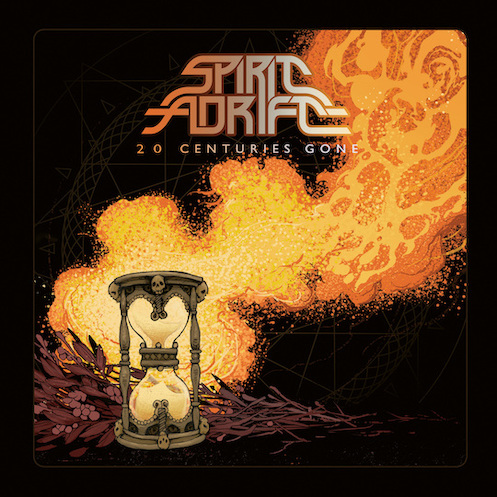 SPIRIT ADRIFT
Titel: 20 CENTURIES GONE
Label: CENTURY MEDIA RECORDS
Spieldauer: 37:09 Minuten
VÖ: 19. August 2022
Die US Heavy/Doom Metaller SPIRIT ADRIFT überbrücken die Zeit bis zum nächsten Longplayer mit einer weiteren EP namens "20 Centuries Gone". Diese enthält neben zwei neuen Eigenkompositionen sechs Coverversionen großer Namen.
Dabei sind die beiden neuen eigenen Stücke die gar nicht mal so heimlichen Stars der Platte. Der Opener `Sorcerers Fate´ glänzt mit heavy Leads, schicken Harmonien, aber genauso viel Wucht und Melodik, bevor auch das 70s Vibes versprühende `Mass Formation Pychosis´ mit Power, Charme, Atmosphäre und seinem pulsierenden Abschluss überzeugt.
Die sechs Coverversionen sind unterschiedlich gut gelungen, wobei das sicherlich auch im Auge des geneigten Betrachters liegt. `Everything Dies´ (Type O Negative) erreicht die Düsternis und Atmosphäre des Originals zu keiner Zeit und klingt harmlos bis beinahe niedlich. `Hollow´ dagegen fängt den Pantera-Sound sehr gut ein und mixt ihn mit den SPIRIT ADRIFT Trademarks.
Besonders gelungen umgesetzt ist ebenso der "Ride The Lightning"-Track `Escape´ mit seiner Power und Melodie bis zum eingängigen Chorus. Dagegen stinkt `Poison Whiskey´ (Lynyrd Skynyrd) abgesehen von der grandiosen Gitarrenarbeit ein wenig ab.
`Waiting For An Alibi´ (Thin Lizzy) und das verschrobene `Nasty Dogs And Funky Kings´ von ZZ Top passen dagegen wieder perfekt zum eigenen psychedelisch-doomig-eingängigen Ansatz und Sound.
Insgesamt ist "20 Centuries Gone" ein gutklassiger, musikalischer Amuse-Gueule, auf dem auch die Bearbeitungen in Teilen Spaß, aber vor allem die beiden Eigenkompositionen Laune und Lust auf mehr machen.
Michael Gaspar vergibt 7 von 10 Punkten