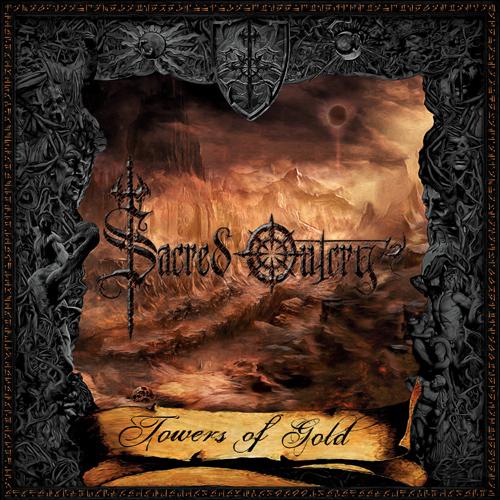 SACRED OUTCRY
Titel: TOWERS OF GOLD
Label: NO REMORSE RECORDS
Spieldauer: 55:27 Minuten
VÖ: 19. Mai 2023
SACRED OUTCRY öffnen mit "Towers Of Gold" das zweite musikalische Kapitel der Bandgeschichte und präsentieren den Nachfolger des Debüts "Damned For All Time" (2020) und erstmals das brandneue Line-up in Aktion: Axeman Steve Lado, Drummer Defkalion Dimos und Daniel Heiman (ex-Lost Horizon) hinter dem Mikro.
Das cineastische Konzeptalbum wurde geschrieben und arrangiert von Mastermind und Bassist George Apalodimas und zelebriert den Trademarksound der Truppe aus dunkel-intensivem Epic Power Metal. Der Power Metal Sound der späten 90er und frühen 00er Jahre wird vermengt mit Einflüssen des 80s US Metal "where WARLORD meets BLIND GUARDIAN and MANOWAR joins LOST HORIZON on a mystical journey through ten chapters of dark epic metal".
Dabei wird das Gaspedal selten durchgedrückt, denn der Fokus liegt auf den ausladenden, teils komplexen Kompositionen und der episch-majestätischen Komponente sowie großen Melodien und vielfältigen Arrangements.
Dabei gibt es sowohl knackig-eingängige Nummern wie die beiden Vorabsingles `The Flame Rekindled (Lurid Lights And Drunken Revelry)´ und `The Voyage (Towards Immortality)´ als auch abwechslungsreiche und vielschichtige Longtracks zu entdecken.
Unter diesen sticht neben der grandiosen `Symphony Of The Night (The Curse Of The Blind)´ und dem intensiv-düsteren `The Sweet Wine Of Betrayal (The Perennial Sin)´ vor allem der facettenreiche, dynamische, beinahe fünfzehnminütige Titeltrack `Towers Of Gold (Tempus Edax Rerum)´ mit seinen symphonischen Elementen, Chören und Gitarrensoli heraus.
Beeindruckender Silberling nahe der musikalischen Perfektion, der mit einem vielschichtigen Sound aufwartet und mit jedem Durchlauf weiterwächst und nur aufgrund einiger weniger Längen knapp an der Höchstnote vorbeischrammt.
Michael Gaspar vergibt 9 von 10 Punkten