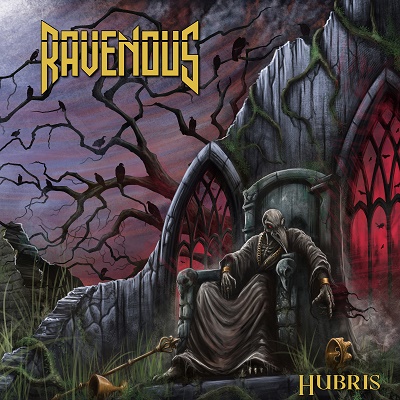 Label: FEAST BEAST RECORDS
Spieldauer: 51:57 Minuten
Das kanadische Quintett RAVENOUS verarbeitet auf seinem Zweitling "Hubris" nach eigener Aussage Einflüsse aus Thrash, Power, Black und Prog Metal und möchte "heroische Hymnen im Stil von Manowar, Sabaton, Iced Earth" erschaffen.
Was ich höre, ist pfeilschneller Power Metal europäischer Prägung kombiniert mit teilweise manowarartigen, teilweis fast opernhaften, aber recht tief angesiedelten Vocals irgendwo zwischen Caruso, Hansi Kürsch und Attial Dorn. Und was zunächst vielleicht merkwürdig klingt, stellt sich als ungeheuer interessant und kurzweilig heraus und funktioniert prächtig.
Songs wie der Opener Carnage in Carthage, das mächtige Son Of Storms oder das grandiose Bridgeburner werden nicht langweilig und machen auch beim x-ten Durchlauf noch Spaß. Gleiches gilt für die Power-Thrash-Hymne 'Astral Elixir' und das pfeilschnelle, epische '1,000 Deaths'.
Auch für genügend Abwechslung ist durch einige Gastauftritte und die verwendeten, thrashigen und progressiven Nuancen gesorgt. So übernimmt beim atmosphärischen 'The Alder Queen' Nina Osegueda (A Sound Of Thunder) einen Teil der Vocals und bei der gefühlvollen Ballade 'Onwards & Upwards' erfährt Frontmann R.A. Voltaire hochkarätige Unterstützung von Mathias Blad (Falconer).
Das treibende, packende und abermals äußerst unterhaltsame 'Claw Is The Law' wiederum verfügt über Vocals, Akkordeon-, Mandolinen- und Gang Vocal-Parts der US-amerikanischen Folk-/Piratenband The Dread Crew Of Oddwood.
Das beinahe zehneinhalbminütige Epos '…Of Beasts And Faust' featured Vincent Jones (Aether Realm) und schließt einen hochklassigen, kurzweiligen Silberling würdig ab. Grandiose Leistung, riesige positive Überraschung und ein weiteres Power-Metal-Highlight 2021!
Michael Gaspar vergibt 8,5 von 10 Punkten