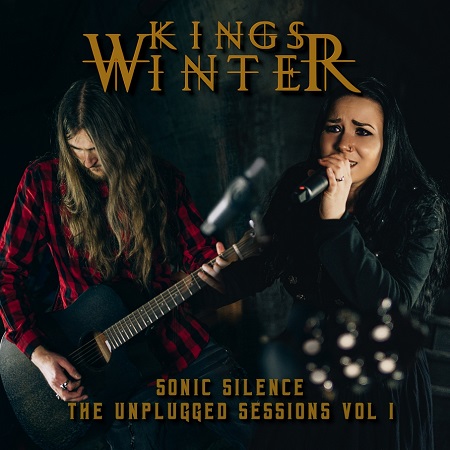 KINGS WINTER
Titel: SONIC SILENCE THE UNPLUGGED SESSIONS VOL. 1 (EP)
Spieldauer: 22:29 Minuten
VÖ: 12. Februar 2022
Sehr lobenswert und zu begrüßen, wenn die Hinweise des Rezensenten so unmittelbar in die Tat umgesetzt werden, wie in diesem Fall. Hatte ich doch im Review zur letztjährigen Scheibe "Edge Of Existence" angemerkt, dass die Stimme von Frontfrau Jule Dahs in den leisen, reduzierten Arrangements der Scheibe am besten zur Geltung kommt.
Aber Spaß beiseite: sicherlich liegt es weniger an mir, dass das Duo KINGS WINTER auf der neuen EP "Sonic Silence – The Unplugged Sessions Vol. 1" fünf ihrer Songs im "unverstärkten akustischen Gewand" präsentiert. Die minimalistische Begleitung des Gesangs mit akustischer Gitarre, Bass und Cajon steht dem Sound der Sauerländer jedoch nach wie vor blendend zu Gesicht.
Anfang und Ende bilden dabei mit 'Forging The Cataclysm' der Titel- und mit 'The Grand Delusion' ein weiterer Song der gleichnamigen EP von 2019. Arrangements und Melodien der gelungenen, packenden Bearbeitungen weichen teilweise deutlich von den Originalen ab, was zusätzlich für kreative Spannung und Abwechslung sorgt.
Die Auswahl der drei weiteren Songs, die allesamt von "Edge Of Existence" stammen, ist grandios und beinhaltet die absoluten Album-Highlights. So wird aus einer harten Nummer wie 'Kingdom Of The Blind' eine gitarrenlastige Ballade und auch 'Crusader Of Today' haut den Hörer förmlich aus den akustischen Socken.
Und auch die "Gleichberechtigungshymne" 'The Next In Line' büßt in der abgespeckten, noch ruhigeren Version nichts von ihrer Eindringlichkeit, Aktualität und Intensität ein, sondern das genaue Gegenteil ist der Fall.
Fazit: packender Kurzplayer mit spannendem, musikalischem Ansatz, kreativer Umsetzung und fünf starken Songs. Und gute Nachrichten gibt es auch noch zu vermelden: das nächste Studioalbum wird wieder "elektrisch" sein, aber das "Unplugged Sessions" Konzept wird definitiv fortgesetzt und "Vol. 2" ist bereits fest eingeplant.
Michael Gaspar vergibt 8,5 von 10 Punkten