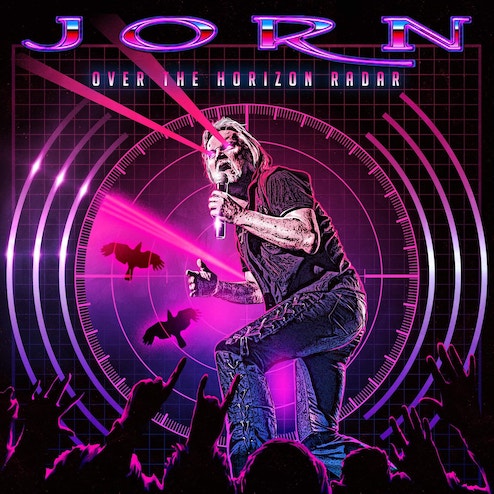 JORN
Titel: OVER THE HORIZON RADAR
Spieldauer: 58:22 Minuten
VÖ: 17. Juni 2022
Der norwegische Sänger Jorn Lande (Masterplan, Beyond Twilight, Allen/Lande, Ayreon, Avantasia) und seine gleichnamige Band JORN präsentieren das neue Studioalbum "Over The Horizon Radar" und befinden sich soundtechnisch irgendwo in der Schnittmenge von 80er Melodic Metal und Hardrock.
Die Songs sind dem stimmlichen Mittelpunkt auf den Leib bzw. die Stimmbänder geschneidert und mit ausreichend Härte und packenden Soli versehen, andererseits aber auch ein wenig gleichförmig, überwiegend im Midtempo angesiedelt und irgendwie aus der Zeit gefallen wirkend.
"Over The Horizon Radar" enthält zehn brandneue Kompositionen plus eine Extended Album Version des Stücks `Faith Bloody Faith´, der JORN-Beitrag für den 2021 Melodi Grand Prix, den norwegischen ESC-Vorentscheid.
Musikalisch und vor allem gesanglich sind Songs wie der Titelsong oder das grandiose `Dead London´ ohnehin über jeden Zweifel erhaben. Und auch wenn das alles nicht neu oder besonders originell ist, so kommt es doch glaubwürdig, angenehm gesettlet und gelegentlich melancholisch rüber.
Deutlich wird das beispielsweise an der Vorabauskopplung `One Man War´ und der nachdenklichen (Power-)Ballade `Ode To The Black Nightshade´. Der mitreißende Ohrwurm `Believer´ bedient zwar das ein oder andere Genre-Klischee, bevor jedoch die abschließende, bereits erwähnte Hymne beeindruckt und für einiges entschädigt.
Insgesamt eine gelungene, aber nicht überragende Heavy Rock Scheibe mit anständigem Songwriting, einigen atmosphärischen sowie musikalischen Highlights und einer der vermutlich besten Stimmen im Classic Rock/Melodic Metal unserer Tage.
Michael Gaspar vergibt 7,5 von 10 Punkten