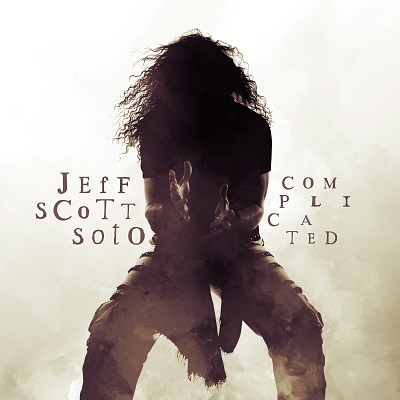 JEFF SCOTT SOTO
Titel: COMPLICATED
Spieldauer: 43:31 Minuten
VÖ: 06. Mai 2022
Neben der Mitwirkung an zahllosen Projekten, vielfältigen Kollaborationen und ebenso vielen Features dreht es sich hier mit "Complicated" nun auch schon um die mittlerweile achte Soloscheibe des Hardrock- und Metal-Vokal-Veteranen JEFF SCOTT SOTO.
Auch auf dem neuen Langeisen vereint der US-Amerikaner Hardrock, Melodic Metal und Soul in seiner Stimme, verpackt sein Talent in elf neue Kompositionen und arbeitet erneut mit Produzent und Songwriter Alessandro Del Vecchio zusammen, der auch Bass, Keys und Backing Vocals übernimmt.
Die Rocker `Last To Know´ und `Disbelieving´ sind zwei solide Opener mit gutem Chorus, während der energiegeladene, eingängige Ohrwurm `Home Again´ den ersten Glanzpunkt setzt. Das ebenfalls grandiose `Love Is The Revolution´ überrascht mit indisch-orientalischen (Sitar?)-Klängen und besticht durch ein großartiges Solo, bevor die Ballade `Until I See You Again´ einen wohligen Schauer über meinen alten, lädierten Rücken laufen lässt.
Die Gitarren zu Beginn des Titeltracks sowie des mitreißenden `New Horizon´ braten ordentlich, so dass der Begriff Melodic Metal nicht fehl am Platz ist. Der nächste melodische Ohrwurm mit AOR-Affinität lässt in Form von `Back To The Beginning´ auch nicht lange auf sich warten und `Obsession` sorgt für den kraftvollen Schlusspunkt mit Mitsingpotential.
Da auch die gefürchteten Synthies des unvermeidlichen Del Vecchio auf "Complicated" größtenteils dezent, wohl dosiert und songdienlich zur Geltung kommen, ist hier in Sachen Songwriting, Gesang, Produktion, Energie und Spielfreude alles im grünen Bereich und die Scheibe weiß ebenso gut zu gefallen wie das letztjährige Duettwerk.
Michael Gaspar vergibt 8,5 von 10 Punkten