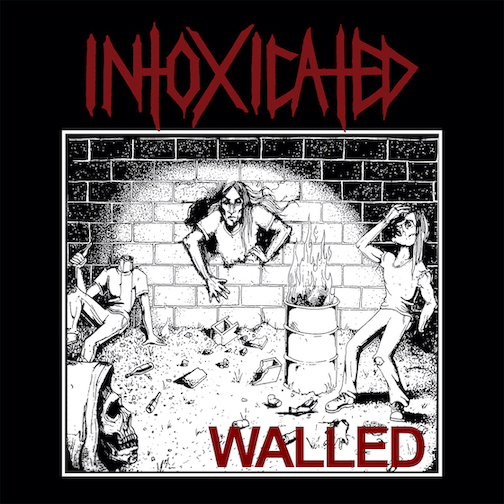 INTOXICATED
Titel: WALLED (EP)
Label: SEEING RED RECORDS
Spieldauer: 19:55 Minuten
INTOXICATED aus Florida sind schon seit den frühen Neunzigern in der Death Szene aktiv. Eines ihrer Demotapes wurde seinerzeit sogar von DEATH Mastermind Chuck Schuldiner produziert und INTOXICATED waren immer schon mit OBITUARY verbandelt. So war Donald Tardy vier Jahre lang ein Bandmitglied als OBITUARY selbst auf Eis lagen. An Credibilty fehlt es der band also beileibe nicht und Newcomer sind sie erst recht nicht. Vor allem das sie bereits 1997 ein full length Album namens "Metal Neck" auf den Markt brachten.
Satte 23 Jahre später haben INTOXICATED neben den Death-metallischen Sounds auch Thrash, Crossover und Hardcore Elemente in ihren Klangwelt Einzug gehalten. Das wird gleich beim Opener 'Smash The Line' klar, der genau zwischen Thrash und Death Metal liegt und am Ende eine gewisse Hardcore Attitude offenbart, die auch DRI damals an den Tag legten. Cooler Track. Das bereits vor Erscheinen ausgekoppelte Titelstück "Walled" ist purer Florida old school Death Metal: schnörkellos, mit einem mächtigem Hauptriff und schön brutal gekotzten Vocals: einfach nur "straight in your face" Death und mein persönliches Highlight der EP.'Grab The Rope' rappelt ein wenig Hardcore-lastig, 'Hells Reward' ist dagegen schon fast komplex arrangiert. Breaks und etwas komplizierteres Riffing haben hier ebenso ihren Platz, wie kurze Highspeed-Einsprengsel. Zurück zu den reinen Death Metal Wurzeln geht es dann wieder bei 'Stuck In Mode' das mich in der Gesangsmelodie an 'Leprosy' erinnert. Im weitgehenden Midtempo geht die EP mit 'Yuck' zu Ende.
Das meiste hier ist einfaches, cooles brutal-old-school Zeug mit den genannten stilistischen Einflüssen. Aber ehrlich gesagt, wünschte ich mehr reine Daeth Metal Songs, denn das sind offenbar ihre Wurzeln und diesen Stil beherrschen die Jungs am besten. Produktionstechnisch könnte man sicher auch noch das ein oder andere verbessern, wobei auch der rohe Sound seine Berechtigung hat und unter "true" verbucht werden kann.
Sven Bernhardt vergibt 7 von 10 Punkten