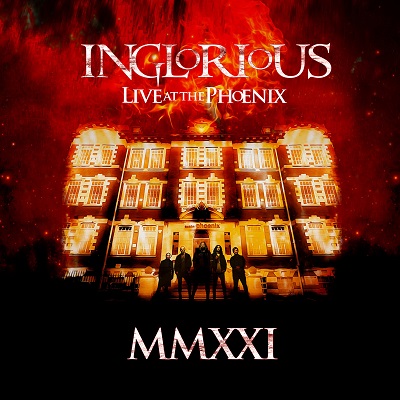 INGLORIOUS
Titel: MMXXI LIVE AT THE PHOENIX
Spieldauer: 48:09 Minuten
VÖ: 08. April 2022
INGLORIOUS präsentieren acht Jahre nach Bandgründung stolz ihre erste Livescheibe "MMXXI Live At The Phoenix". Der für den CD/DVD-, LP-, Blu-Ray- und Digital-Release dokumentierte Auftritt fand im September 2021 im Exeter Phoenix in Exeter im Südwesten Englands statt.
Den Eindruck der nach langer Corona-Livepause aus ihrem Käfig befreiten und entfesselten Tiger, auf die im Infotext abgestellt wird, kann ich nicht ganz teilen, aber die britischen Hardrocker beweisen sich als kompakte Einheit, eingespieltes Gefüge und starke Liveband.
Bei der Songauswahl finden alle fünf bisherigen Studioalben des Quintetts um den facettenreichen Frontmann Nathan James Berücksichtigung. Die beiden "We Will Ride"-Songs, der straighte Album-Opener `She Won´t Let You Go` und das fantastische `Messiah` bilden ein starkes Auftaktdoppel der elf Tracks starken Setlist, die es auf eine Spielzeit von knapp fünfzig Minuten bringt.
Es folgt mit `Breakaway`, `Where Are You Now?` und `Read All About It` je ein hochklassiges Stück von den übrigen drei Studiodrehern, wenn man die letztjährige Coverscheibe "Heroine" mal außer Acht lässt. Von dieser gibt es das Heart-Cover `Barracuda` zu hören, welches für einen energetisches, kraftvolles Highlight und DAS Glanzlicht der Show sorgt.
Die musikalische Darbietung ist einwandfrei und gelungen und doch eindeutig als in der Livesituation entstanden erkennbar. Die Produktion ist klar und druckvoll. Ansagen halten sich in Grenzen, größtenteils spricht die Musik für sich, aber die Publikumsreaktionen sind zahlreicher und deutlich vernehmbar.
Den Abschluss bilden der "II"-Stampfer `I Don´t Need Your Loving`, der vielumjubelte Titelsong des vierten Longplayers `We Will Ride` und die abschließende Hymne `Until I Die`. "MMXXI Live At The Phoenix" ist ein kompaktes, dynamisches Live-Dokument und sowohl für Fans des Genres, Anhänger der Band (sowieso) als auch ausgehungerte Livemusikjunkies prädestiniert.
Michael Gaspar vergibt 7,5 von 10 Punkten