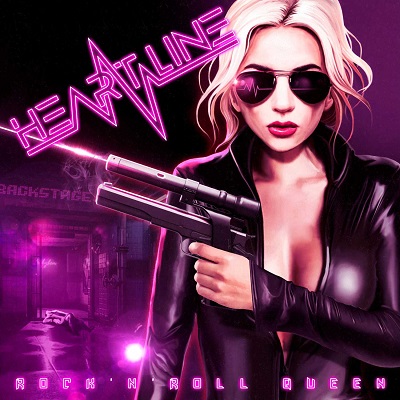 HEART LINE
Titel: ROCK ´N ROLL QUEEN
Spieldauer: 54:45 Minuten
VÖ: 23. Juni 2023
Die jungen französischen AOR/Melodic Rocker HEART LINE stellen anderthalb Jahre nach dem äußerst durchwachsenen Debütalbum "Back In The Game" ihren Zweitling "Rock ´n Roll Queen" in die Plattenregale.
Dieser hält zwölf eingängige Titel im puren Vibe der glorreichen 80er bereit und bietet melodischen, modernen, keyboardlastigen AOR mit viel Eingängigkeit und Zuckerguss. Und einige Tracks sind immer noch an der Grenze zum Kitsch oder zur Cheesiness oder schlicht und einfach nicht packend genug.
Aber – und das unterscheidet das Zweitwerk in meinen Augen doch erheblich vom Vorgänger – es gibt Hoffnung und hier eben auch jede Menge gelungene, starke und nachhaltige, zeitgemäße Melodic Rock Unterhaltung auf die Ohren.
Das beginnt schon mit dem ausgekoppelten, treibenden Opener `I am The Night´ und setzt sich mit dem hymnischen `The Last Time´, dem mitreißenden Titelsong und dem packenden `Hard To Believe´ nahtlos fort.
Nach der gnadenlos unwichtigen Schnulze `Call Me´ setzt man dann zum baumstarken Endspurt an, der aus dem rockigen `Hard Life´, dem Ohrwurm `Reach For The Stars´, dem eingängigen `The Fire Still Burns´ und dem stimmigen, beinahe progressiven `Keeper Of Desire´ besteht.
Fazit: gutes Album, eine enorme Steigerung zum Erstling und somit eine verdiente, deutliche bessere Bewertung. Weiter So!
Michael Gaspar vergibt 7,5 von 10 Punkten