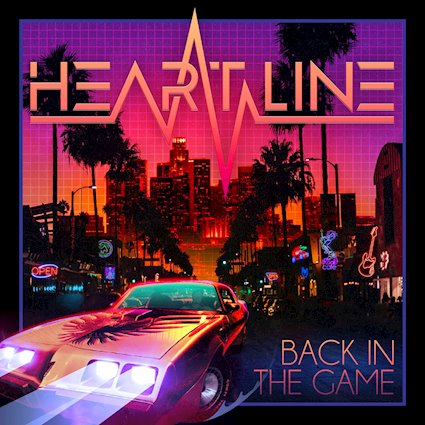 HEART LINE
Titel: BACK IN THE GAME
Spieldauer: 44:08 Minuten
HEART LINE ist ein junges französisches AOR-/Hardrock Projekt rund um Gitarrist und Produzent Yvan Guillevic und Sänger Emmanuel Creis. Das Quintett zeigt sich vor allem inspiriert durch 80er Helden wie Whitesnake, Foreigner, Journey, Winger und Giant.
Ihr melodischer Hardrock gerät also eher verhalten und recht keyboardlastig. Zudem rauscht beinahe das gesamte Album am Hörer vorbei. Nicht falsch verstehen: musikalisch gibt es hier grundsätzlich nichts zu bemängeln, aber weder zünden die Kompositionen so richtig, noch gelingt es ihnen, mich emotional abzuholen.
Hier wird größtenteils in ganz seichten Gefilden gefischt, das Wasser steht schon eine Weile und es riecht auch schon ein wenig muffig. Da können auch die teilweise hörbaren Vocals, die guten Gitarrensoli und die sehr gute Keyboardarbeit nicht mehr viel am bescheidenen Gesamteindruck ändern.
Die guten Momente beschränken sich auf einzelne Parts, beispielsweise von 'Hold On' oder 'On Fire'. Auch das kraftvolle, energetische Riffing zu Beginn von 'Back In The Game' und 'Firedance' (vielleicht der beste Song der Platte) hätten einen packenden Track ergeben können, ebenso wie der grandiose, atmosphärische Synthieanfang von 'Stranger In The Night'.
Doch leider enden (fast) alle Tracks in der gleichen nichtssagenden, laffen AOR-Suppe. Am besten weiß da noch – man ist geneigt zu sagen ausgerechnet – die gefühlvolle, leicht hymnische Ballade 'Once In A Lifetime' zu gefallen.
Michael Gaspar vergibt 5 von 10 Punkten