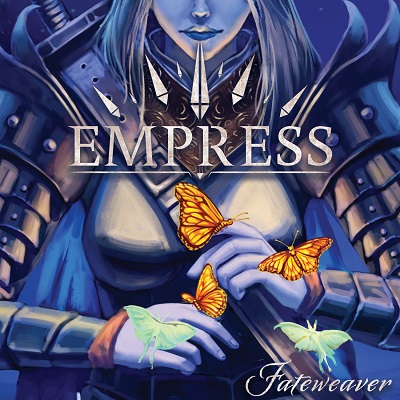 EMPRESS
Titel: FATEWEAVER
Spieldauer: 47:47 Minuten
VÖ: 19. August 2022
Aus den USA stammen die Symphonic Power Metaller EMPRESS rund um die klassisch ausgebildete Sängerin Barbara Blackthorne und Songwriter, Gitarrist und Mastermind Vlad Khavin. Die Band legt mit "Fateweaver" das von Dan Swanö produzierte Full-Length-Debüt vor.
Der mehr oder weniger symphonische Power Metal wird von den kraftvollen, vielseitigen Vocals der Frontfrau dominiert, manchmal treten auch männliche Growsl hinzu. Die Orchestrierungen sind fulminant, aber nicht zu üppig, die Vocals niemals übertrieben theatralisch, die glasklare Produktion lässt die Instrumentalfraktion ebenfalls gut aussehen.
Zudem bauen EMPRESS progressive Elemente in ihren Sound ein und überzeugen mit guten Songs und schicken Arrangements. Als Anspieltipps kann man Symphonic Afficionados die beiden Vorabsingles `Eventide´ und `Into The Grey´ sowie der in meinen Augen beste, weil vielseitigste und ausgewogenste Song `The Fall Of Kingdoms´ ans Herz legen.
Fazit: Rundum überzeugendes Symphonic Power Metal Debüt mit Power und Durchschlagskraft, Abwechslung und Kreativität! "Fateweaver" erscheint im Eigenvertrieb und kann über den Store der Band oder digital erworben werden.
Michael Gaspar vergibt 8 von 10 Punkten