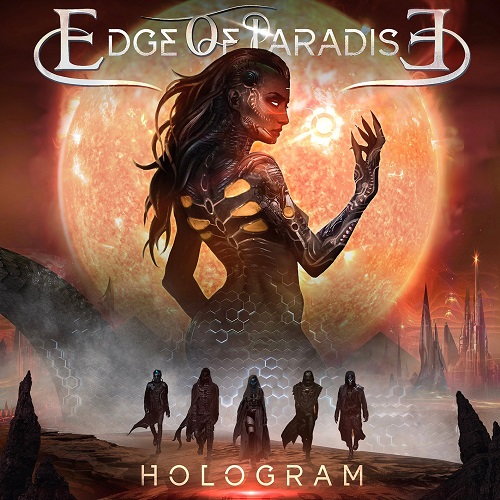 EDGE OF PARADISE
Titel: HOLOGRAM
Spieldauer: 42:51 Minuten
VÖ: 14. Juli 2023
Die US-amerikanischen Metaller EDGE OF PARADISE legen ihr bereits fünftes Studioalbum "Hologram" vor und damit den Nachfolger des durchwachsenen "The Unknown" (2021). Im Kern besteht die die Band aus der in Armenien geborenen, in Russland aufgewachsenen und in den USA lebenden Sängerin Margarita Monet und dem US Gitarristen und Songwriter Dave Bates. Hinzu kommen Rhythmusgitarrist David Ruiz, Jamie Moreno am Bass und Drummer Kenny Lockwood.
EDGE OF PARADISE stehen für ultramodernen Melodic/Symphonic Metal mit Industrial und Electro Metal Einflüssen sowie die markante und dominante Stimme der Frontfrau, mit der ich persönlich nicht so recht warm, mich aber um Objektivität bemühen werde.
Zweifellos sind die zehn brandneuen Tracks (wie auch die Stimme der Wahl-Kalifornierin) wieder atmosphärisch, eingängig, dramatisch, hypnotisch und in Teilen beeindruckend. So beispielsweise der packende Titelsong gleich zu Beginn, das mitreißende `This Is Personal´, das düster-symphonische `Dark´ sowie die weitere Vorabauskopplung `Basilisk´.
Oft jedoch sind die Vocals in Sachen Theatralik und Schwülstigkeit auch ein paar Nummern zu groß oder/und klingen irgendwie extrem gewollt geheimnisvoll und verrucht, was dann ins Gegenteil umschlägt und eher geschraubt und "over the top", denn episch wirkt.
"Hologram" hat seine Momente und insbesondere ein paar starke Tracks, kann aber nicht über die gesamte Spielzeit überzeugen, und lebt und leidet in etwa zu gleichen Teilen unter der Gesangsdarbietung, die wahrlich Geschmackssache ist.
Michael Gaspar vergibt 6,5 von 10 Punkten