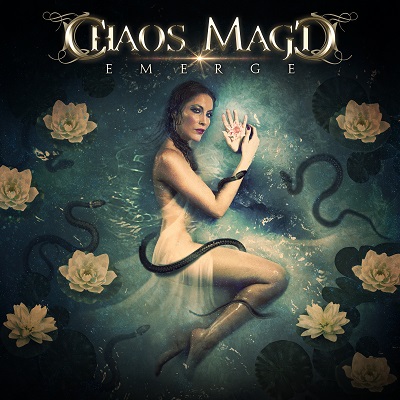 CHAOS MAGIC
Titel: EMERGE
Spieldauer: 49:44 Minuten
VÖ: 17. Juni 2022
Die Aushängeschilder und Macher von CHAOS MAGIC sind die chilenische Sängerin Caterina Nix (Aghonya, Timo Tolkki´s Avalon) und ihr kongeniales Gegenstück Landsmann, Musiker, Sänger und Produzent Nasson.
Diese Zusammenarbeit besteht seit dem Vorgänger "Furyborn" (2019), das selbstbetitelte Debüt hatte die Frontfrau noch gemeinsam mit Timo Tolkki (Stratovarius) geschrieben und produziert. "Emerge" bietet catchy Symphonic gekreuzt mit Modern Metal versehen mit einigen elektronischen und beinahe poppigen Elementen sowie dem eindrucksvollen Organ der Sängerin.
Während der Titelsong und Ohrwurm `Emerge´symphonische Elemente enthält, setzt die weitere Single `Beneath Your Skin´ auf modernes Riffing, catchy Melodien und elektronische Spielereien. Das treibend-dramatische `Days Of Lions` kann ebenso überzeugen wie die letzte Vorabauskopplung `In The Depths Of The Night´.
Darüber hinaus erwähnens- und bemerkenswert sind zwei spektakuläre Duette/Kollaborationen. Zum einen das fulminant-epische `Garden Of Winter´ mit Gastvocals von Elina Siirala (Leaves´ Eyes) und Pianoparts des grandiosen Mistheria. Ebenso imposant das gemeinsam mit Nasson dargebotene dramatisch-ergreifend emotionale `Victims Of Our Heaven´.
Insgesamt eine moderne, kurzweilige Platte, die vor allem vom guten, wenn auch nicht mega-abwechslungsreichen Songwriting und der facettenreichen Stimme der Frontfrau, die eine enorme Bandbreite an Emotionen transportiert, lebt.
Michael Gaspar vergibt 7 von 10 Punkten