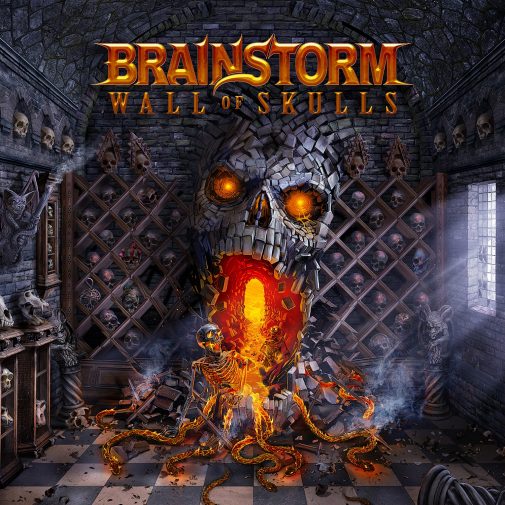 BRAINSTORM
Titel: WALL OF SKULLS
Spieldauer: 44:36 Minuten
Die süddeutsche Power-Metal-Band BRAINSTORM blickt auf über 30 Jahre Bandgeschichte und zwölf Alben zurück. Von Stillstand kann aber keine Rede sein und der neue, dreizehnte Dreher "Wall Of Skulls" soll auch alles andere als Unglück bringen, sondern sowohl qualitativ als auch in Sachen Erfolg den nächsten Schritt bedeuten.
Der Power Metal des Quintetts ist kompromisslos und majestätisch zugleich. Hartes Riffing und eine gewisse, düstere Stimmung treffen auf hymnische Refrains und die starken Vocals des charismatischen Frontmanns Andy B. Franck. Beeindruckend ist außerdem wie geradlinig und schnörkellos die Band ihre Kompositionen dabei gestaltet, Bombast, Keyboards und ausufernde Spielereien sucht man hier vergeblich. Auch die gleichbleibend extrem hohe musikalische und kompositorische Qualität der zehn brandneuen Songs imponiert.
Dabei funktionieren flotte Double-Bass-Nummern wie 'Where Ravens Fly' und 'My Dystopia' mindestens genauso gut wie traditionelle Midtempo-Kracher wie das mega-hymnische 'Solitude' und das ebenso grandiose 'Glory Disappears'.
Die Mitarbeit von zwei Gastsängern stellt ein absolutes Novum im Laufe der Karriere des Fünfers dar. Die beiden so entstandenen, rasanten Songs zählen aber sicherlich zu den weiteren Highlights der neuen Scheibe.
Rage-Frontmann Peavy Wagner's raue Vocals liefern in 'Escape The Silence' den perfekten Kontrast zum voluminösen, hymnischen Gesang von Andy B. Franck. 'Turn Off The Light', Duett mit Seeb Levermann (Orden Ogan), der auch für Mix und Produktion des Longplayers verantwortlich zeichnet, weist einen gewissen Battle-Charakter zwischen den Stimmen auf und sorgt für weitere Abwechslung.
Die beiden knallharten Nummern 'Stigmatized (Shadows Fall)' und 'I, The Deceiver' mit ihren gnadenlosen Riffs, geilen Refrains und packenden Soli erinnern an Judas Priest. Das dazwischen eingebettete 'Holding On' ist ein eher ruhiger, aber genauso beeindruckender und eingängiger Hard Rock-Track.
Fazit: Hochklassiger Silberling ohne Ausfälle und mit Sicherheit eines der Power-Metal-Highlights des Jahres!
Michael Gaspar vergibt 9 von 10 Punkten