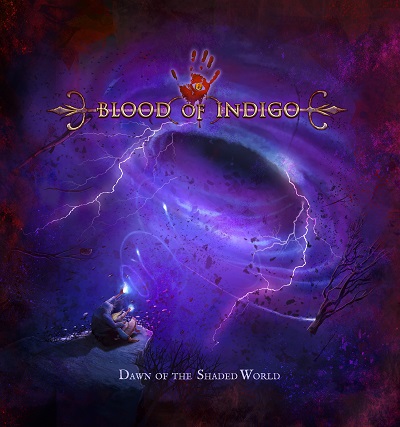 BLOOD OF INDIGO
Titel: DAWN OF THE SHADED WORLD
Spieldauer: 68:59 Minuten
VÖ: 26. August 2022
Die Symphonic Gothic Metaller BLOOD OF INDIGO legen ihr episches, beeindruckendes Debütalbum "Dawn Of The Shaded World" vor. Das kanadische Trio besteht aus Alex Centorame (Vocals/Lyrics), Nathan Gross (Keyboard/Orchestrierungen) und Mariusz Syposz (Gitarre/Drum Programming).
Das Projekt und sein majestätischer Sound mischen Elemente und Einflüsse aus Power, Symphonic, Cinematic, Gothic, Black, Death und Progressive Metal und präsentieren ein eindrucksvolles, geradezu monumentales, beinahe 70-minütiges Werk.
Bereits der Opener `Mimesis´ ist eine vierzehnminütige orchestrale, rein instrumentale Ouvertüre für das, was danach folgt. BLOOD OF INDIGO erschaffen eine dunkle Fantasiewelt und erzeugen mit dem cineastischen, vielseitigen, soundtrackartigen Mix ihres "Dark Fantasy Metal" Bilder im Kopf des Hörers.
Dabei weisen die einzelnen Stücke teilweise blackmetalartige Passagen, aber auch ruhige Parts auf, wodurch packende Spannungsbögen und viel Dynamik erzeugt werden. Beinahe jedem Ton kann man anhören, wie viel Aufwand, Mühen und Liebe zum Detail in ihm stecken.
So kombiniert beispielsweise `Angelus, The Faceless Vampire´ schnelle Blast-Attacken mit harshen Vocals und soften Piano Parts, während `Sphynx, Collector of Eyes´ üppige Orchestrierungen und fulminante Chöre mit schleppendem Death Metal und Growls verknüpft.
Dabei sind die Kompositionen abwechslungsreich, stimmig und werden niemals langweilig oder -atmig. Den fulminanten Schlusspunkt mit eher ruhigem, beschaulichen Ende bildet das Zehn-Minuten-Epos `Dawn of The Shaded World´, welches durch die kanadische Sängerin, Harfinistin, Pianistin und Komponistin Lindsay Schoolcraft (Ex-Cradle Of Filth) und ihre musikalischen Talente bereichert wird.
"Dawn Of The Shaded World" ist eine Art cineastische Black Metal Oper, die auf grandiose Art Stile mischt und den Hörer fesselt und unterhält, zwar keine leichte Kost, aber die "Mühe" absolut wert.
Michael Gaspar vergibt 9 von 10 Punkten