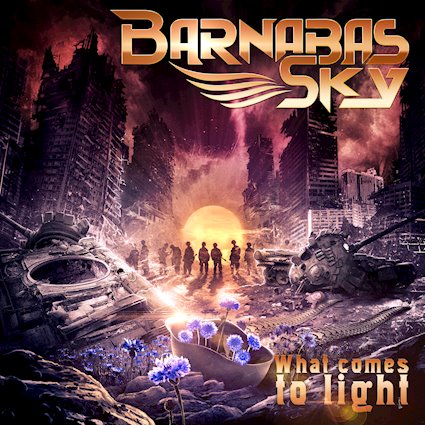 BARNABAS SKY
Titel: WHAT COMES TO LIGHT
Spieldauer: 58:37 Minuten
VÖ: 20. Januar 2023
Das Hardrock Allstar-Projekt BARNABAS SKY unter Führung des deutschen Gitarristen und Songwriters Markus Pfeffer (Lazarus Dream, Winterland) geht mit seinem Zweitwerk "What Comes To Light" an den Start.
Musikalisch verbindet der "Inspirations" Nachfolger erneut groovige Gitarrenriffs, eingängige Refrains, sphärische Synthieklänge und filigrane Soli zu einem klassisch-melodischen, dieses Mal in großen Teilen eher soften Rockmix.
Dabei wird der Gesang wie gewohnt den markanten Stimmen mehrerer international bekannter Sänger überlassen. Erneut mit von der Partie sind Danny Vaughn (Tyketto) sowie Jesse Damon (Silent Rage), wobei Ersterer beim Titelsong seine energetisch-melodische Seite und sich in Bestform zeigt, während der Zweitgenannte beim elegischen Ohrwurm `Grant Me A Wish From Heaven´ zusätzlich mit Chören von AOR-Legende Paul Sabu unterstützt wird.
Neu mit an Bord sind dagegen Doogie White (Rainbow, Alcatrazz, Rising Force) beim Classic Rocker `Circus Of Delight´ sowie Dan Reed (Dan Reed Network) mit dem von Synthies dominierten `Take A Ride´.
Darüber hinaus geben Roy Cathey (Cold Sweat, The Fifth), Dirk Kennedy (Hittman), Carsten "Lizard" Schulz (Domain, Evidence One), Lee Small (Sweet, Lionheart), Metal-Legende Alan Tecchio (Watchtower) sowie der venezuelanische Newcomer Deibys Artigas Venegas (Preincarnation) ihre gesangliche Visitenkarte ab. Leider gibt der Infotext jedoch nicht zu allen Songs den jeweiligen Sänger Preis.
Das gelungene Artwork stammt von Stan W. Decker (Powerwolf, Megadeth, u.a.) und das Mastering von Crematory Gitarrist Rolf Munkes und dessen Empire Studios (MSG, Mad Max, Voodoo Circle, etc.).
Neben den bereits genannten Songs bleiben unter den elf neuen Kompositionen des Multiinstrumentalisten aus der Barbarossastadt Kaiserslautern vor allem das intensive `A Dying Song´, der AOR-Ohrwurm `We Are Electric´ und das packende `One Or The Other´, der wohl härteste Track der Platte, im Gedächtnis.
Insgesamt wusste der ein wenig härtere, spannendere und abwechslungsreichere sowie vor allem weniger synthielastige Vorgänger einen Tacken besser zu gefallen. Aber das ist Jammern auf allerhöchstem Niveau, denn trotzdem ist "What Comes To Light" sowohl musikalisch als auch von der prominenten und kompetenten Besetzung her ein stimmiges, exzellentes AOR-/Melodic Rock Album der "europäischen Weltklasse" geworden.
Michael Gaspar vergibt 8 von 10 Punkten