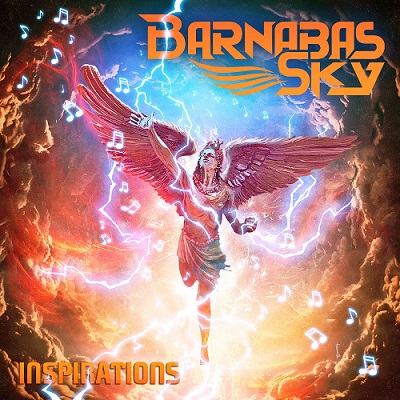 BARNABAS SKY
Titel: INSPIRATIONS
Spieldauer: 62:27 Minuten
Mastermind des neuen All-Star Hard & Heavy-Projekts BARNABAS SKY ist Markus Pfeffer (Lazarus Dream, Winterland, ex-Scarlett) aus Kaiserslautern.
Angesichts des beinahe weltweiten Lockdowns und einer überstandenen, lebensbedrohlichen Erkrankung beschloss der deutsche Gitarrist, Komponist und Multi-Instrumentalist groß zu denken, seine Pläne nicht mehr auf die lange Band zu schieben und den Traum eines von ihm komponierten und mit verschiedenen, hochkarätigen Sängern aufgenommenen Albums in die Tat umzusetzen. Und so viel sei vorweggenommen: die Gästeliste und die neuen Kompositionen auf "Inspirations" können sich sehen und hören lassen.
Tyketto-Stimme Danny Vaughn präsentiert den epischen, eingängigen Opener 'Legends Rise' und den Ohrwurm 'Say Farewell To Darker Days'. Savatage-Fronter Zak Stevens intoniert das stampfende, dunkle 'What Lies Beneath' und das groovige, eindrückliche 'The Alkonost', während Danny Martinez Jr. (Guild Of Ages) mit 'Breathe Again' und 'In My Mind' zwei eher samtige, leichtfüßige Melodic Hardrocksongs beisteuert.
Jesse Damon´s (Silent Rage) rauchig-kehliges Organ zeigt sich vielseitig und macht sowohl bei der gefühlvollen Ballade 'Till The End Of Time' als auch dem AOR-Rocker 'Youngblood' eine ausgezeichnete Figur.
Auch das Riffmonster 'Yesterday´s Gone' mit Melodic Metal Sirene Bob Rock (Axel Rudi Pell, Impellitteri) und 'Never Enough' mit Steve Grimmett (Grim Reaper) am Mikro können überzeugen.
"Inspirations" verströmt eine durchgehend leicht dunkle Stimmung, glänzt mit packenden Hooks, Riffs und Soli und wirkt kompositorisch und musikalisch trotz der verschiedenen Sänger stimmig und wie aus einem Guss. Wie man hört dürfen wir uns auf eine Fortsetzung mit weiteren hochkarätigen Sängern freuen, denn diese soll bereits in Arbeit sein.
Michael Gaspar vergibt 8,5 von 10 Punkten