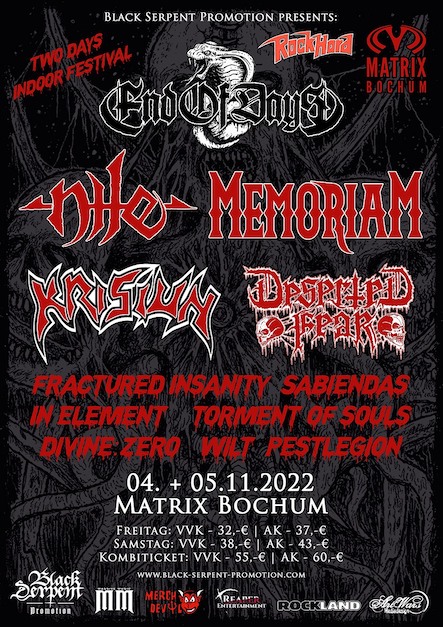 END OF DAYS Part 3 – KRISIUN, NILE, MEMORIAM, DESERTED FEAR u.v.m.
4. November – 5. November 2022
Matrix in Bochum
Das Bochumer Death Metal Indoor Festival geht in die dritte Runde und hat für die diesjährige Ausgabe die todesmetallische Vollbedienung geplant. Für den 04. und 05. November 2022 haben Black Serpent in die Bochumer Matrix geladen und dafür ein mächtiges Line-Up auf die Beine gestellt, bei dem kein Death Metal Fan zögern sollte. Mit dabei sind:
NILE (USA)
MEMORIAM (UK)
KRISIUN (BRZ)
DESERTED FEAR (GER)
IN ELEMENT
SABIENDAS (GER)
FRACTURED INSANITY (B)
TORMENT OF SOULS (GER)
DIVINE:ZERO (GER)
WILT (GER)
PESTLEGION (GER)
Hier gibt's unseren Bericht zum zweiten Teil, noch vor der Pandemie.