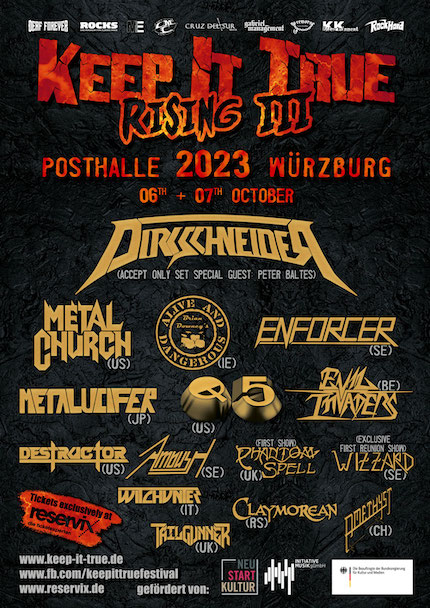 KEEP IT TRUE "Rising 3" – DIRKSCHNEIDER, METAL CHURCH, ALIVE AND DANGEROUS u.v.m.
6. Oktober – 7. Oktober 2023
Posthalle in Würzburg
Das KEEP IT TRUE Festival geht in die nächste Runde. Unter dem Banner "Rising 3" werden am 06. und 07. Oktober 2023 DIRKSCHNEIDER, METAL CHURCH, BRIAN DOWNEY`S ALIVE AND DANGEROUS, ENFORCER, METALUCIFER, Q5, EVIL INVADERS, DESTRUCTOR, AMBUSH,
PHANTOM SPELL, WIZZARD (SWE), WITCHUNTER, CLAYMOREAN, TAILGUNNER und AMETHYST die Posthalle in Würzburg wieder zu einer Heavy Metalarea erster Güte verwandeln.
Daneben sollen noch weitere Hochkaräter das Line-up vervollständigen.
Die Veranstalter schreiben:
"Hallo Freunde,
 lange hat die Posthalle gekämpft und wir sind nun überglücklich euch bekannt geben zu können, dass es in der Posthalle bis Ende 2025 sicher weitergehen wird.
Wir waren natürlich nicht untätig, mussten aber die finale Entscheidung abwarten. Aber nun endlich können wir euch offiziell das Billing vom KEEP IT TRUE RISING 3 präsentieren. Es fehlen noch der Headliner und Co-Headliner am Freitag, sowie noch die ein oder andere Band, aber wir sind glücklich, euch ein richtig fettes Billing vorstellen zu können. Um diese Ankündigung nicht zu lang zu machen, werden wir auf alle Bands in den kommenden Tagen separat eingehen, aber nur so viel, wir sind sehr stolz euch mit Udo UND Peter zwei wirkliche Legenden des Traditionsstahls aus Deutschland als Samstagheadliner präsentieren zu können und auch eine der ersten Shows von METAL CHURCH mit dem neuen Sänger Marc Lopes.
Wir konnten nun jahrelang den Ticketpreis stabil halten und haben auch die beiden ersten Rising und das kommende April KIT mit den üblichen 99 Euro durchgezogen, auch wenn die Preise in der Zwischenzeit um ein vielfaches gestiegen sind, aber für Rising 3 müssen wir einfach den Preis etwas erhöhen, weil wir sonst auf keinen Fall die gewohnte KIT Qualität garantieren können. Wir hoffen ihr versteht das und wir danken euch schon mal für euren Support."
Tickets gibt es hier: https://posthalle.reservix.de/