"Let's play a game: Reality is what we perceive as living now and the projection of our own thoughts, desires and hopes. 
It can also easily be the projection of our fears, despair or loneliness. 
We are what we think of us, we are everything in nothing and nothing in everything. Now imagine that you are the only one that knows it and controls it and that you can create other's reality. 
Would you dare to create Utopia?"
Das fragen die Heavy Metaller von SCARLET AURA und stellen so die neue Single 'Utopia' vom " vom kommenden Album "Genesis of Time" vor. Der über 70minütige Longplayer wird am 10. September erscheinen, ein Video zur Single am 23. Juli.
Videostream:
https://music.youtube.com/watch?v=-u50d9jPvnE&list=OLAK5uy_kiJUWk28gXs1mQzv0_E_4v_CJjXWB5jqc
SCARLET AURA kommen in absehbarer Zukunft gleich zwei mal auf Tour bei uns vorbei.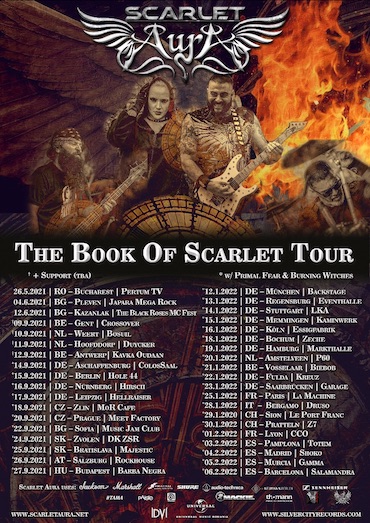 Headliner Shows:
14.9.2021 | DE – Aschaffenburg | ColosSaal
15.9.2021 | DE – Berlin | Hole 44
16.9.2021 | DE – Nürnberg | Hirsch
17.9.2021 | DE – Leipzig | Hellraiser
Primal Fear, Burning Witches, Scarlet Aura:
12.1.2022 | DE – München | Backstage
13.1.2022 | DE – Regensburg | Eventhalle Airport
14.1.2022 | DE – Stuttgart | LKA
15.1.2022 | DE – Memmingen | Kaminwerk
16.1.2022 | DE – Köln | Essigfabrik
18.1.2022 | DE – Bochum | Zeche
19.1.2022 | DE – Hamburg | Markthalle
20.1.2022 | NL – Amstelveen | P60
21.1.2022 | BE – Vosselaar | Biebob
22.1.2022 | DE – Fulda | Kreuz
23.1.2022 | DE – Saarbrücken | Garage