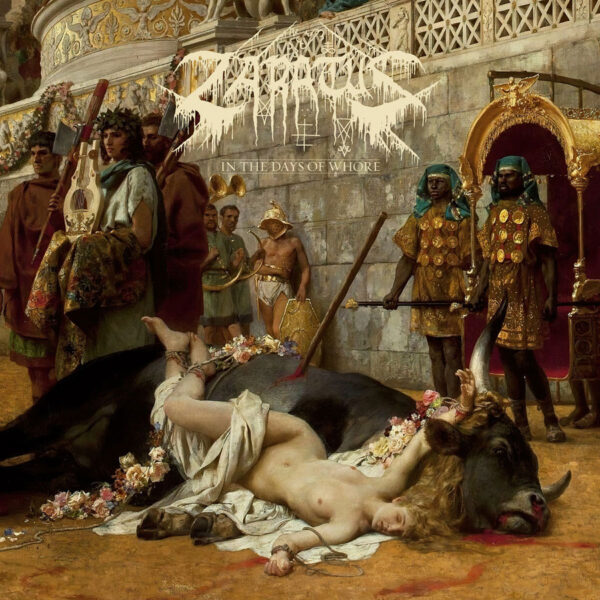 ZARATUS
Titel: IN THE DAYS OF WHORE
Spieldauer: 48:04 Minuten
ZARATUS, ein neuer Stern am schwarzmetallischen Firmament? Laut Bekundungen stecken hinter ZARATUS Musiker aus der hellenischen Black Metal Gilde. Ihr Album biete laut Labelinfo "eine frische Idee, wie Black Metal heutzutage klingen soll". Dementsprechend ausgerichtet soll auch das Schaffen der Griechen auf dem Debütalbum ausgerichtet sein. Noch differenzierter gesagt: man orientiert sich am griechischen Black Metal der Neunziger. Starke Worte!
Im Klartext sind also Referenzen an Rotting Christ, Necromantia, Thou Art Lord und vermutlich Varathron zu erwarten. Dieser Gralslehre folgen ZARATUS sicherlich auch gedanklich und großteils auch vom Songwriting her.
Wenn ich mir allerdings die tatsächliche klangliche Umsetzung betrachte, erscheint mir "In the Days of Whore" einigermaßen misslungen und sehr holzschnittartig.
Wenngleich ich vorwegschicken möchte, dass mich hellenischer Black Metal an sich wenig bis gar nicht einnimmt, finde ich zumindest Varathron als herausstechenden Vertreter der griechischen Schwarzkunst. Dagegen stinken ZARATUS jedoch gewaltig ab, es findet sich wenig Dynamik, handwerklich finde ich das Schlagzeug unter aller Kanone und so einige Dümpelparts mit Keyboarduntermalung sind maximal drittklassig.
Im Fazit mag der Hellenen Black Metal Fan durchaus ein gutes Album vermuten und auch so besehen. Als Kritiker und Black Metal Fan entdecke ich hier nur wenig erwähnenswerte Positivaspekte. Bleibt daher nur eine Note unter dem Durchschitt übrig.
Ingo Holzhäuser vergibt 4 von 10 Punkten