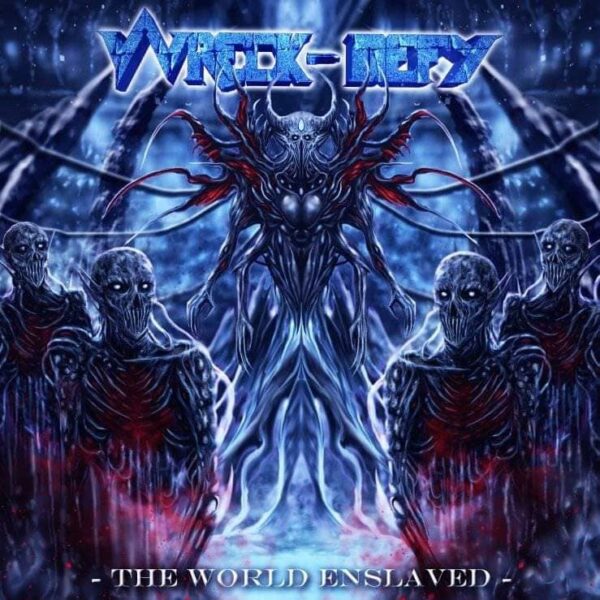 WRECK-DEFY
Titel: A WORLD ENSLAVED
Es ist gerade mal ein Jahr her seit "Powers That Be", das dritte Album von WRECK-DEFY, das Licht der Welt erblickte und schon haut Gitarrist und Songwriter Matt Hanchuck den vierten Longplayer raus. Dazwischen hat der Workaholic sogar noch eine EP mit Coverversionen aufgenommen, die allerdings ziemlich untergangen ist.
Dies wird mit "The World Enslaved" garantiert nicht passieren, denn wie sein Vorgänger ist dieses Eisen ein Thrash-Vorschlaghammer vor dem Herrn. Hanchuck scheint angepisster denn je zu sein und lässt seiner Aggression auf den zehn Songs freien Lauf. Köstlich wie er sich in 'Fashionably Offended' über die vielen Leute lustig macht, die sich durch alles und jeden angegriffen fühlen und sich vor allem in den sozialen Netzwerken gerne als Moralapostel aufspielen.
Natürlich spielt auch die Kriegsproblematik für den kanadischen Veteranen wieder eine Rolle ('Death By War'). Zwischendurch nimmt Matt, der wieder von Greg Christian (ex-Testament) am Bass und dem Studiodrummer David Allen unterstützt wurde, allerdings auch mal den Fuß vom Gas ('Obey' & 'I`d Share Your Grave'). Gerade dann zeigt der neue Sänger Greg "Wags" Wagner (Ex-Archetype, Ex-Shatter Messiah), dass er sich nicht hinter seinem Vorgänger Aaron Randall (ex-Annihilator) verstecken muss.
Seine Stimme erinnert ein wenig an den unvergessenen David Wayne (ex-Metal Church, Reverend), so dass er auch knallharten Nummern wie 'Towing The Line' oder 'Moment Of Clarity' seinen Stempel aufzudrücken vermag. Das Coverartwork stammt einmal mehr von Ari Arianthi (Hand Rot Art) und kommt im Vinylformat sicher richtig gut zur Geltung. Erhältlich ist dieses feine Scheibchen in verschiedenen Farben und auch als CD bei https://www.docgatorshop.com/.
Alex Fähnrich vergibt 8,5 von 10 Punkten