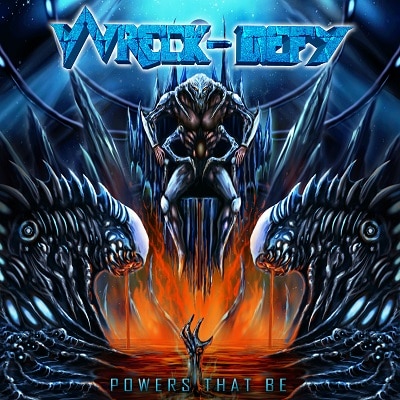 WRECK-DEFY
Titel: POWERS THAT BE
Holy shit, lange nicht mehr so von einem Opener überrollt worden wie von 'Beyond H8'! Da war wohl jemand verdammt geladen, als er diesen Song geschrieben hat. Überhaupt konterkariert WRECK-DEFY-Boss Matt Hanchuck das Bild, das der gemeine Europäer von Kanada hat. Spätestens der Blick aufs Backcover, wo Premier Trudeau auf das am Boden liegende Bandmaskottchen pisst, offenbart Hanchucks Einstellung zu seiner Regierung.
Neben derben Texten äußert sich dies in hochexplosiven Songs wie 'Skin' oder 'Freedomless Speech'. Auf der anderen Seite gibt es aber auch Stücke wie 'Drowning In Darkness' (das so realitätsnah durch zerbrechendes Glass eingeleitet wird, dass man rumschnellt, um zu sehen, was denn da zu Bruch gegangen ist) und 'Scumlord', die fast schon lakonisch daherkommen.
Diese Stimmungswechsel gehen vor allem auf das Konto von Sänger Aaron Randall, der nicht nur Brüllwürfelqualitäten mitbringt, sondern dessen ausgefeilte Gesangslinien manchmal sogar an Layne Staley (RIP/ex-Alice In Chains) erinnern. Aaron ist ein wahres Urgestein der kanadischen Metal-Szene und hat schon 1993 'Set The World On Fire" von Annihilator eingesungen.
Ein zweiter bekannter Name in den Reihen von WRECK-DEFY ist Bassist Greg Christian (Ex-Testament) und auch sonst sind einige illustre Gastmusiker, wie z.B. Geoff Thorpe (Vicious Rumors) und Doug Piercy (Blind Illusion) auf "Powers That Be" zu hören. Damit ist das dritte gleichzeitig das beste Album der Canucks. Die CD erscheint bei den Italienern Punishment 18 Records, während das Vinyl in verschiedenen Farben wieder einmal in der Schweiz erhältlich ist: https://www.docgatorshop.com/.
Alex Fähnrich vergibt 9 von 10 Punkten