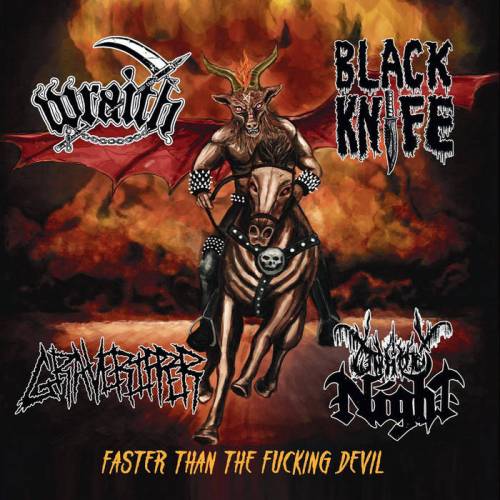 WRAITH/BLACK KNIFE/GRAVERIPPER/UNHOLY NIGHT
Titel: FASTER THAN THE FUCKING DEVIL SPLIT
Label: WISE BLOOD RECORDS
Spieldauer: 37:05 Minuten
VÖ: 2. September 2022
Die klassische Split LP, die geschaffen wurde, um Bands relativ kostengünstig einem breiten Publikum zugänglich zu machen, ist ja eher selten geworden.
Wise Blood Records kredenzen uns hier quasi eine Doppel Split, denn mit den schwarz angehauchten Thrashern/Speedstern von WRAITH, BLACK KNIFE, GRAVERIPPER und HOLY NIGHT präsentieren sie uns hier gleich vier Bands.
Und die bolzen hier auf jeweils drei Songs, UNHOLY NIGHT allerdings nur auf zwei, richtig ordentlich los.
Von WRAITH sei hier der Uffta Speedster '(Call Me) The Destroyer' – geiler Refrain -namentlich erwähnt. Mit dem sich zwischen Groove und pumpenden Speed bewegenden 'Land Of The Dead' und dem schnellen, punkigen 'Gouge The Eyes Out, Steel The Soul' tragen sich BLACK KNIFE gleich zweimal in die Bestenliste ein.
Von GRAVERIPPER sei euch hier das hymnisch beginnende, dann zwischen Speed und punkigen Groove wechselnde 'Night Frozen Black' wärmstens ans Herz gelegt. UNHOLY NIGHT können mich sowohl mit dem treibenden Black Thrasher 'Louder, Angrier' als auch mit dem schnellen 'Ancinet Rites' überzeugen.
Fazit: Alle vier Bands machen hier ohne wirklichen Ausfall dem geilen Plattentitel alle Ehre. Black Thrasher und Speedster sollten mindestens ein Ohr riskieren.
Ludwig Lücker vergibt 8 von 10 Punkten