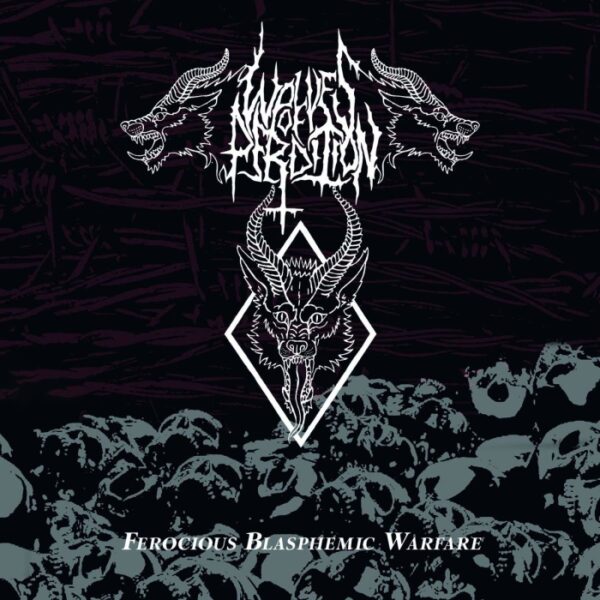 WOLVES OF PERDITION
Titel: FEROCIOUS BLASPHEMIC WARFARE
Spieldauer: 53:38 Minuten
Finnischer Black Metal mit schwedischer Melodieverliebtheit und angenehm punkigen Einschlag könnte man die vorliegende Scheibe kurz zusammenfassen. Alles gesagt? Nein, WOLVES OF PERDITION machen das, was sie auf ihrem Debütalbum präsentieren, meines Erachtens wirklich gut. Textlich richtet man über alle institutionalisierten Religion und schüttet den Hass und Ungemach über diese aus. Also global anti-religiös statt anti-christlich. Musikalisch bietet "Ferocious Blasphemic Warfare" derbe und gleichzeitig anspruchsvolle Kost. Die Kompositionen sind gut strukturiert und kommen aus einem Guss. Allerdings brauchen sie zwei bis drei Durchläufe bis sie ihre volle Pracht entfalten können. Vereinzelt schimmern Maiden-Leads und ein deutlicher Death Metal Einschlag durch.
Produktionstechnisch hat mich die Scheibe überrascht: ein druckvoller und differenzierter Sound, den ich für eine Band solcher Größenordnung nicht erwartet hätte. Die ganz kritischen Stimmen könnten hier schon wieder Ausverkauf wittern.
Anspieltipps: 'Holy Execution', 'The Riding Storm', die blanke Raserei in 'Muslims to the Wolves' oder das schleppende 'Rev 13:4'. Klasse Release auf dem feinen Berliner Folter Records Label. Well done!
Ingo Holzhäuser vergibt 8 von 10 Punkten