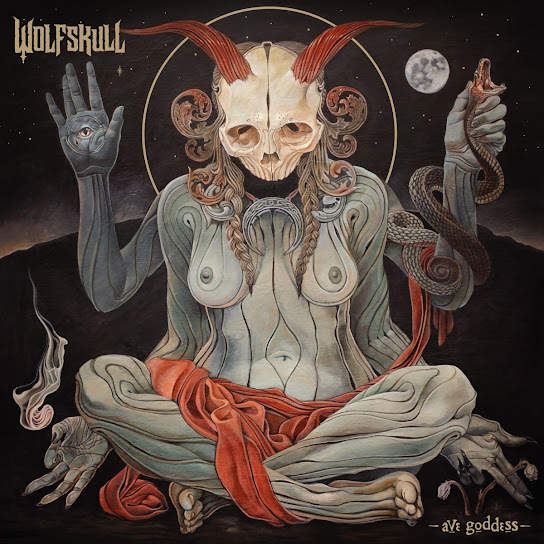 WOLFSKULL
Titel: AVE GODDESS
Spieldauer: 46 Minuten
VÖ: 16.12.2022
Mannomann, das Ding hier ist ja wohl mal so richtig eingeschlagen! Von WOLFSKULL hatte ich im Rahmen des saucoolen The Virus Projects, bei dem Drummer Styx vor zwei Jahren involviert war, zwar mal gehört, aber mich nie groß damit beschäftigt. So ging die Debüt-EP "Hexum" völlig an mir vorbei. An anderer Stelle war dem glücklicherweise nicht so und die Schweizer Vinyl-Schmiede Doc Gator Records nahm das Essener Wolfsrudel unter seine bewährten Fittiche.
Herausgekommen ist dabei mit "Ave Goddess" ein Album voller eingängiger Goth N Roll-Hits, die irgendwo in der Schnittmenge zwischen Danzig, HIM und The Cult munter vor sich hin mäandern. Mit Unterstützung einer bekannten Booking-Agentur und eines professionellen Managements sind WOLFSKULL nun in aller Munde und werden von der schreibenden Zunft sogar im Printsektor kräftig abgefeiert.
Ich gönne es Band und Label von Herzen, bin als fest im Underground verwurzelter Metalhead aber von Hause aus eher skeptisch ob eines solchen "Hypes" (Ich weiß, dass dieser Begriff gerade an der Basis gerne inflationär genutzt wird, hier scheint dieser mir allerdings angemessen.). Was mich dann jedoch überzeugt hat, war der Auftritt von WOLFSKULL beim "HMF-Festival" in Siegen Ende letztes Jahr. Die Jungs mussten ohne ihren Bassisten antreten und haben den Vortex-Surfer-Musikclub trotzdem mächtig gerockt. Das hat mir mächtig imponiert, vor allem der exaltierte Frontmann Pete 9 und die arschcoole Gitarrenfraktion Feratu/Boarz.
Aus der Konserve hauen mich die Wolfsschädel nicht so um, aber Gassenhauer wie Incarnadine, Nocturnal Blue und Black Winged Angels funktionieren auch im heimischen Musikzimmer oder im Auto. Wenn ihr euch also auch die Band der Stunde ins Wohnzimmer holen wollt, wendet euch vertrauensvoll an Wolfskull – Ave Goddess | Doc Gator Records (docgatorshop.com).
Alex Fähnrich vergibt 8 von 10 Punkten