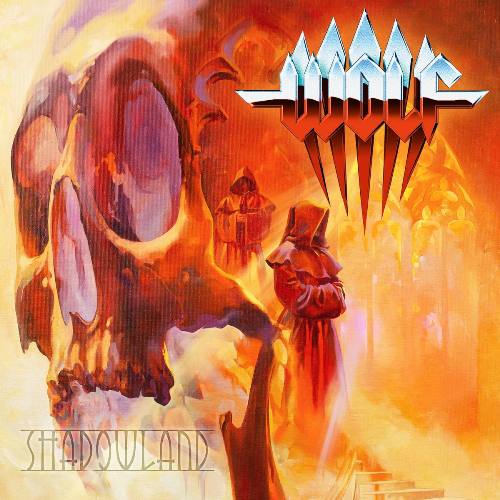 Spieldauer: 54:45 Minuten
VÖ: 1. April 2022
Irgendwie habe ich gedanklich die schwedische Band WOLF immer noch so in der Rubrik "junge" Band abgespeichert, was bei einem Blick auf ihre Biography, welche besagt, dass es die Schweden schon siebenundzwanzig Jahre gibt, doch ad Absurdum geführt wird….liegt vielleicht am eigenen Alter, wer weiss.
WOLF's letztes Album aus dem Jahre 2020 "Feeding The Machine" erschien ja punktgenau zu Beginn des Corona Wahnsinns und daher leider etwas untergegangen. Nun versuchen es die schwedischen Wölfe mit "Shadowland", dem nun neunten Album der Bandhistorie.
Musikalisch ist zumindest alles beim Alten geblieben. WOLF zelebrieren hier ihre eigene, ziemlich selbstständige Mischung aus Bestandteilen der New Wave of British Heavy Metal und der skandinavischen Adaption Mercyful Fate's.
Das gelingt ihnen auch in starker Weise auf dem aktuellen Dreher und führt zu knackigen Songs wie dem melodischen Opener 'Dust', dem melodisch groovenden 'Seek The Silence', dem rhythmischen Titeltrack mit seinen hymnischen Vocals, dem Up Tempo Rocker 'Exit Sign' und dem wohl besten Track des Albums, dem melodisch, hymnischen 'Into The Black Hole'.
Auch heuer schaffen es WOLF noch melodischen Metal zu kreieren ohne die nötige Härte vermissen zu lassen. Ein gelungenes Album mit dem sie hoffentlich auch bald mal wieder auf Tour gehen können.
Ludwig Lücker vergibt 8 von 10 Punkten