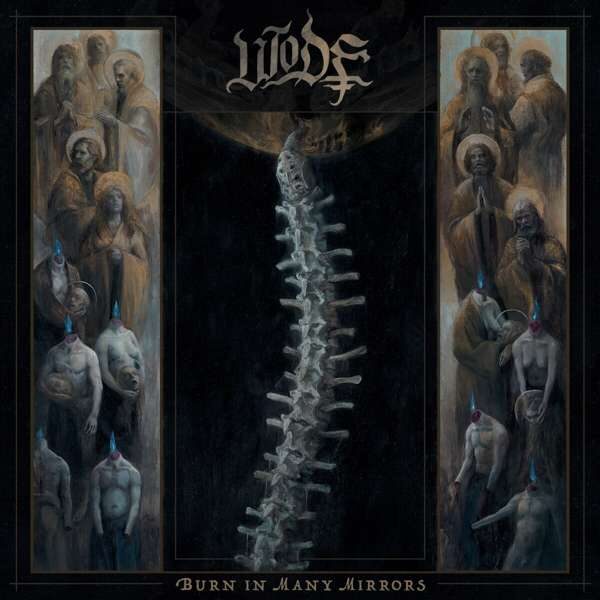 WODE
Titel: BURN IN MANY MIRRORS
Label: 20 BUCK SPIN RECORDS
Spieldauer: 39:09 Minuten
Hier liegt das Drittwerk der Band WODE aus Manchester zum Review vor. Von ihrem Schaffen ist mir bislang noch nichts bekannt. Somit stellt "Burn in many Mirrors" also mein Erstkontakt mit der Band dar.
Grob würde ich WODE als Dark/Black Metal mit recht deutlichem Heavy Metal Einschlag bezeichnen. Recht düster startet auch der Eröffnungstrack 'Lunar Madness'. Der Gesang ist ein kehliger tiefer Gesang mit leichten Hall, die Instumentierung klingt ausgewogen und technisch sehr anständig. Irgendwie höre ich hier und da Songfragmente heraus, die man auch bei Bands wie Tribulation erwarten könnte. Teilweise werden klassische Heavy Metal Leads in die Tracks eingebunden, als wäre es die natürlichste Sache der Welt. Trotzdem bleibt die Grundstimmung immer recht dunkel. Die Tracks sind nicht übermäßig schnell sondern bewegen sich im gemäßigten Midtempo mit ein paar wenigen Ausritten in zügigere Gefilde. Die Tracks erschaffen schon atmosphärische Klanglandschaften und den Geschmack des Bösen wie in 'Fire to the Hills' oder 'Vanish beneath' gut nachvollziehbar.
Hört sich ja alles ganz töfte an, dennoch komme ich nicht so wirklich ran an das Gehörte. Ich will nicht sagen langweilig, vielleicht eher beliebig und damit schwer zugänglich für meine Ohren. Und: es ist keine Mischung von Mayhem und Iron Maiden, definitiv nicht. Denn dafür bleiben WODE viel zu blass.
Ingo Holzhäuser vergibt 6,5 von 10 Punkten