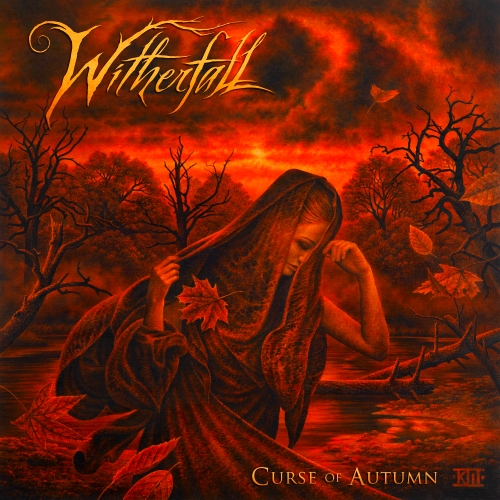 WITHERFALL
Titel: CURSE OF AUTUMN
Spieldauer: 57:08 Minuten
Die Erwartungen waren enorm hoch vor dem dritten, dem make-it-or-break-it Album von WITHERFALL. Dass die US-Power/Prog Metaller hier komplett gequirlten Bockmist abliefern, war angesichts der Qualität der beiden Vorgängeralben und der Vintage-EP dabei keine echte Option. Die Frage, ob das Niveau gehalten oder gegebenenfalls noch gesteigert werden kann, stand wohl eher im Raum. Und die Antwort, die 'Curse Of Autumn' gibt ist: Ja, Niveau gehalten und tatsächlich auch gesteigert.
Nach dem mit geschmackvollem Fretless Bass unterlegtem Intro feuert WITHERFALL das thrashige 'The Last Scar' aus der Hüfte. Hier zeigt Joseph Michael direkt mit unfassbarer stimmlicher Bandbreite, warum ihm momentan weltweit kaum ein zweiter Sänger das Wasser reichen kann. Auch hier, wie bei fast allen weiteren Songs des Albums, fällt direkt die deutlich erhöhte Eingängigkeit in den Refrains auf. Ein echter Ohrwurm ist da vor Allem 'As I Lie Awake', zweimal gehört, mitgesungen, super. Insgesamt ist die Grundstimmung deutlich voranschreitender, ja, aggresiver, weniger melancholisch als auf 'A Prelude To Sorrow' mit Ausnahme der Halbballade 'Another Face', die als Bonustrack in der Acoustic-Fassung doppelt vertreten ist. In der proggigen Abfahrt 'Tempest' kann vor allem die Rhythmus-Maschine Minnemann/Crawford glänzen, während Jake Dreyer ein ganz dickes Brett im Instrumental 'The Unyielding Grip Of Each Passing Day' mit ganz viel Malmsteen-Appeal bohrt. Bei 'The Other Side Of Fear' wird dann noch einmal die hochkomplexe Progthrash-Kelle ausgepackt. Mann, was Mr. Michael hier für ultraböse Growls auspackt. Das getragene 'The River' führt dann hin zum epischen 'Ach geh mir wech, sowas geht doch garnicht'-Opus Magnum '…And They All Blew Away', das in über 15 Minuten alle musikalischen, virtuosen, gesanglichen Trademarks von WITHERFALL zusammenfasst.
So, und nicht anders, muss moderner, kraftvoller Prog/Power-Metal vorgetragen werden. Auch die Produktion von 'persona-non-grata' macht den Mokka rund. Für die weiteren Mitbewerber auf den Titel 'Album des Jahres' haben WITHERFALL mit 'Curse Of Autumn' die Latte verdammt hoch gelegt.
Dirk Eckhard vergibt 10 von 10 Punkten