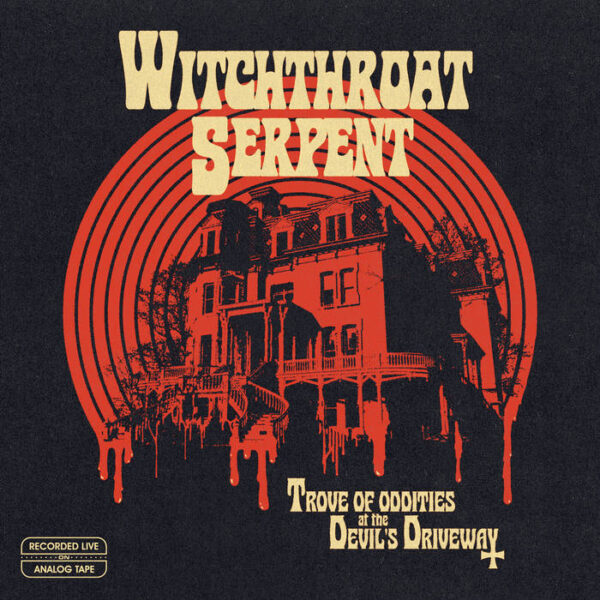 WITCHTHROAT SERPENT
Titel: TROVE OF ODDITIES AT THE DEVIL'S DRIVEWAY
Label: HEAVY PSYCH SOUNDS
Spieldauer: 41:42 Minuten
VÖ: 03. März 2023
Die Truppe WITCHTHROAT SERPENT durfte ich 2017 auf dem St. Helena Fest live erleben. Rein mit Blick auf Sound und Optik hätte ich sie zweifelsohne in den angelsächsischen Raum verortet. Dennoch kommen die Herrschaften aus dem schönen Frankenreich, genauer gesagt aus Toulouse. "Trove of Oddities at the Devil's Driveway" ist das vierte vollständige Album der Franzosen.
Das musikalische Profil ist eindeutig dem Doom Metal zuzuordnen. Präziser gesagt bewegen sich die drei Franzosen sound- und imagetechnisch recht nahe an den Engländern von Electric Wizard. Natürlich werden auch weitere Einflüsse von St. Vitus oder Black Sabbath verarbeitet. Härtemäßig sind sie in meinen Ohren jedoch etwas zahmer als der elektrische Zauberer können aber gleichwohl harte und bratzige Riffs fabrizieren und diese dann schön zäh und mächtig durch die Boxen wabern lassen. Thematisch bewegen sich WITCHTHROAT SERPENT im Horrorbereich, das Cover spricht da eine deutliche Sprache.
Das Album beinhaltet sechs Songs, wobei 'The Gorgon' ein verzerrtes Instrumentalstück ist. Die restlichen Songs haben eine Dauer zwischen knapp sechs und zehn Minuten. Hier sind die Tracks gleichwertig und ohne besondere Ausreißer – weder negativ noch besonders außergewöhnlich. WITCHTHROAT SERPENT servieren dem Hörer ein ordentliches und gutes Album, dass Spaß macht beim Hören. Ob es süchtig macht bezweifle ich hier. Die großen Vorbilder von Electric Wizard hatten ihr Witchcult Today Album mit deutlich höherem Suchtfaktor ausgestattet. Das gelingt dem Trio aus Toulouse noch nicht so richtig.
Fazit: Gutes und solides Doom Material. Nicht zwingend und dennoch ordentlich gemacht.
Ingo Holzhäuser vergibt 7,5 von 10 Punkten