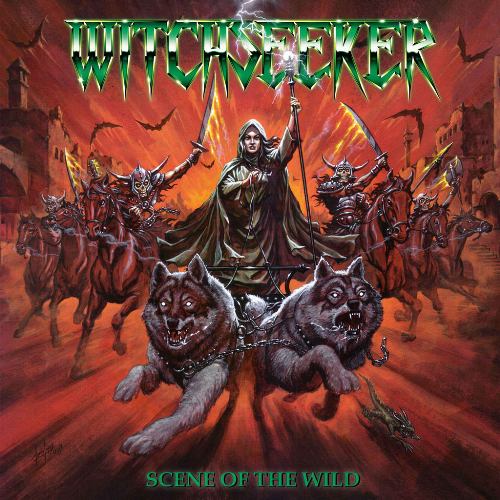 WITCHSEEKER
Titel: SCENE OF THE WILD
Label: DYING VICTIMS PRODUCTION
Spieldauer: 37:45 Minuten
Metal aus Singapur bekommt man ja auch nicht wirklich häufig in die Finger. WITCHSEEKER waren mir bis dato unbekannt, obwohl sie es in acht Jahren ihres Bestehens immerhin schon auf eine EP, eine Split und zwei Langeisen,  gebracht haben, den aktuellen Dreher "Scene Of The Wild" eingerechnet.
Ich weiss nicht ob die eher abgelegene Lage auf dem Metalglobus dies hervor ruft, aber WITCHSEEKER wirken ungeheuer hungrig, enorm enthusiastisch und sie geben ordentlich Gas. Die Mischung aus Heavy und Speed Metal erinnert mich des Öfteren an die Anfangstage von Screamer, bevor diese den Hard Rock für sich entdeckten.
Anyway, die vier Jungs zeigen jedenfalls bei Tracks wie dem Opener 'Scene Of The Wild', 'Be Quick Or Be Dead' oder dem mich an Abattoir erinnernden 'Sin City' das sie wissen, wo das Gaspedal eingebaut ist. Aber auch das treibende 'Rock This Night Away', der hymnische Up Tempo Rocker 'Screaming In The Moonlight' und der melodische Up Tempo Groover 'Candle In The Dark' mit seinem hymnischen Refrain sollten hier keinesfalls unerwähnt bleiben.
Abgerundet wird das Ganze durch eine knackige aber keineswegs moderne Produktion und ein entsprechend Metal-typisches Cover. Wer nicht nur zum K.I.T. oder H.O.A rennt um zu zeigen, dass er zum Underground gehört, sondern dies wegen der Mucke macht, der sollte den Jungs aus dem fernen Singapur ne faire Chance geben.
Ludwig Lücker vergibt 8,5 von 10 Punkten