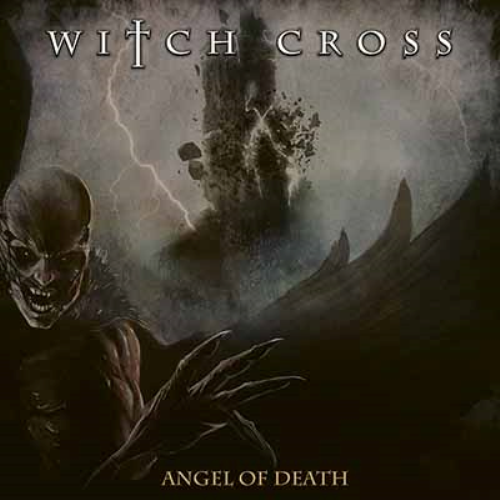 WITCH CROSS
Titel: ANGEL OF DEATH
Spieldauer: 44:15 Minuten
Jeder Metal Fan der sich mit dem achtziger Jahre Metal europäischer Prägung befasst hat oder diesen miterlebte, der sollte bei dem Namen WITCH CROSS aufhorchen. Schließlich geht das semi legendäre Werk "Fit For Fight", welches auf Vinyl wohl auch recht hoch gehandelt wird, auf die Kappe der Dänen. Danach wurde es relativ ruhig um die Band, lediglich 2013 veröffentlichten  sie, von der breiten Masse relativ unbeachtet, den "Axe To Grind" Longplayer.
Nun sind sie also wieder da und schieben mit "Angel Of Death" ein neues Werk über die Ladentheke. Natürlich sind die Herren immer noch dem traditionellen Metal treu geblieben. Von der 84er Besetzung sind auch immerhin noch Bassist Little John Field und Gitarrist Mike Wlad vorhanden. Den spürbarsten Besetzungswechsel gab es mit Kevin Moore am Mikro, der allerdings eine gute Leistung ab liefert.
Und gute Songs können sie immer noch schreiben. Empfehlenswert sind auf jeden Fall der Up Tempo Headbanger und gleichzeitige Titeltrack 'Angel Of Death', der treibende Mid Tempo Rocker 'Evil Eye', der treibende Banger 'Phönix Fire', das groovende 'Siren's Song' mit seinen Fate Anleihen und das abschließende melodisch, epische 'Warrior'.
Wer solche Songs schreiben kann gehört einfach noch nicht aufs Altenteil, auch wenn die Aussage eines grauen Metal Fanatikers aus dem Sauerland "Witch Cross waren geiler als Maiden 83" weder damals noch heute zu traf. Dennoch passendes Kraftfutter für Traditionalisten.
Ludwig Lücker vergibt 8 von 10 Punkten