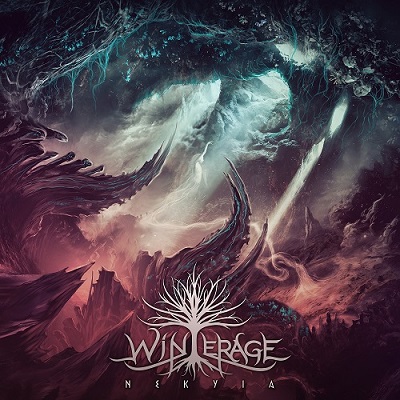 Spieldauer: 50:28 Minuten
VÖ: 07. Juli 2023
Die italienischen Symphonic Metaller WINTERAGE legen bereits ihr drittes Studioalbum "Nekyia" vor, bei dem sie nach eigener Aussage noch epischer, dramatischer und passionierter zu Werke gehen als zuvor, was in der Stilbezeichnung Triumphant Cinematic Power Metal gipfelt.
Doch tatsächlich fährt der Fünfer hier in Sachen Bombast und Theatralik die ganz schweren Geschütze auf, was nicht immer songdienlich ist und manchmal ein wenig sperrig und  kompliziert wirkt, aber in Teilen auch gute Symphonic Kost hervorbringt.
Die neuen Songs bieten dramatische, größtenteils genreuntypisch männliche Vocals, hyperschnelle Gitarrenriffs und -soli, Blastbeats, Folkelemente und üppige Orchestrierungen. Es entsteht ein solider, durch den überwiegend männlichen Gesang, nicht ganz alltäglicher Sound und hörbare Tracks wie die beiden Vorabsingles `Simurgh The Firebird´ und `The Cult Of Hecate´.
Besonders gut wissen dann aber doch die Stücke mit weiblicher Gesangsunterstützung zu gefallen, man höre nur mal das beinahe als Duett durchgehende `Dark Enchantment´. Weitere Anspieltipps einer soliden, aber nicht vollends griffigen und überzeugenden Leistung: `Numen´, der gutklassige Titelsong und das überzeugende `White Leviathan´.
Michael Gaspar vergibt 7 von 10 Punkten