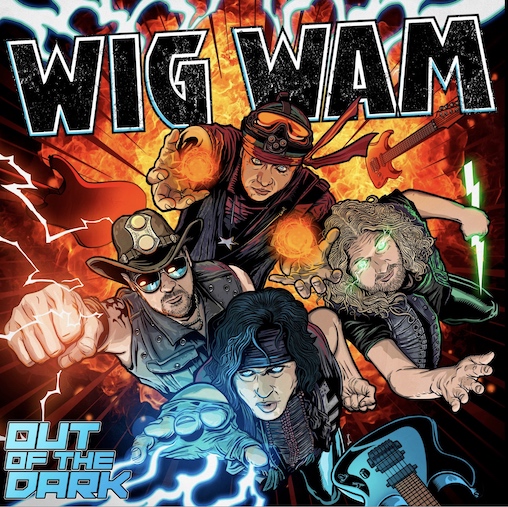 WIG WAM
Titel: OUT OF THE DARK
Spieldauer: 44:02 Minuten
VÖ: 10. Februar 2023
Mit viel Rückenwind nahmen die norwegischen Rocker WIG WAM die Arbeiten an ihrem neuen Studioalbum "Out Of The Dark" auf, welches nun vorliegt. Wurde doch ihr Klassikersong `Do Ya Wanna Taste It' (2010) von Regisseur James Gunn als Titelsong für die amerikanische DC/HBO Serie Peacemaker mit Wrestler John Cena in der Hauptrolle ausgewählt.
Seit nunmehr über zwei Dekaden vermengen Sänger Glam (Åge Sten Nilsen), Gitarrist Teeny (Trond Holter), Bassist Flash (Bernt Jansen) und Sporty (Øystein Andersen) am Schlagzeug mit der 2001 im norwegischen Halden gegründeten Truppe '80s Glam/Hair Metal mit klassischem Hardrock. Auch die elf neuen Songs bieten einen eingängigen, durchdachten Sound mit jeder Menge oldschooligen Rock `n` Roll Vibes.
Beeindruckend stark geraten ist direkt das musikalische Einstiegs-Triumvirat, welches aus dem großartigen Titeltrack, dem energetischen `High N Dry´ und der eher getragenen Mitsing-Hymne und Vorabauskopplung `Forevermore´ besteht.
Auch das eingängige `Bad Luck Chuck´ kann sich hören lassen, wird aber von den beiden Ohrwürmern `The Purpose´ und dem stampfend-mitreißenden `The American Dream´ locker getoppt, während man musikalische Stinker vergeblich sucht.
Das getragene Instrumental `79´ sorgt für Abwechslung und eine kurze Verschnaufpause, bevor das gute `God By Your Side´ und das erneut hymnisch-majestätische `Sailor And The Desert Sun´ für den würdigen Abschluss einer grandiosen Scheibe sorgen.
Michael Gaspar vergibt 8 von 10 Punkten