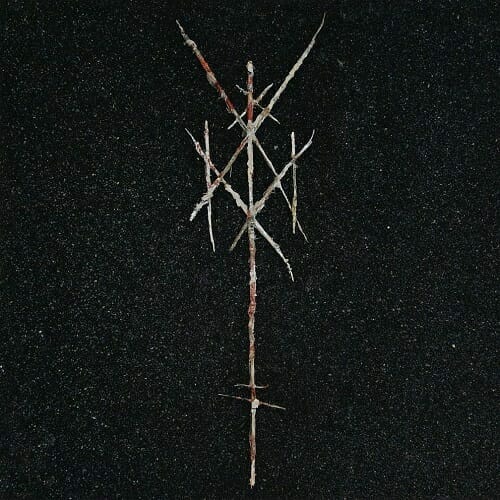 WIEGEDOOD
Titel: THERE'S ALWAYS BLOOD AT THE END OF THE ROAD
Spieldauer: 44:30 Minuten
Nach drei zumindest der Nummerierung und den Titeln zusammenhängenden Alben beehren uns die Belgier WIEGEDOOD erneut mit einer schwarzmetallischen Wall of Sound. "There's always Blood at the End of the Road" lautet der Name des vierten Albums des Musikerkollektivs, die auch in Bands wie Oathbreaker oder Amenra aktiv sind bzw. waren. 
Wer mit einem Gewehr für Spezialkräfte wie WIEGEDOOD im ersten Track 'FN Scar 16' wild umeinander schießt, hat zumindest die Aufmerksamkeit auf sich gezogen. Wenngleich der Track mit seinem manischen Riffing wenig durchschlagend ist, kann nicht verleugnet werden, dass hier Gewalt und Unbeugsamkeit die Szenerie beherrscht. Der zweite Track erscheint weithin etwas verhaltener, aber das Zerrbild des Black Metals hat auch hier seine Fühler ausgerichtet. WIEGEDOOD schaffen dunkle Klanglandschaften, können im Tempo gut variieren und nordische Kälte versprühen ('Until it is not'). 
Ich kann mich dem Eindruck nicht erwehren, dass die gehegten Ambitionen der Truppe aus Belgien hier keineswegs so richtig erfüllt werden. Teilweise belangslos ('Now will always be') agiert man hier mit schrägen Gitarren und Gesangsexperimenten. Dabei kommen auch ganz klar Defizite in der Produktion heraus. Die Drums eiern teilweise blechern und ohne Dampf vor sich hin. Soundtechnisch ist der Mix manchmal etwas fahrig, die Gitarren zu weit im Vordergrund. Und ja: Jammern auf hohem Niveau, aber man muss auch nicht alles durchgehen lassen.
Fazit: Dennoch bleibt ein gutes und phasenweises innovatives Stück Schwarzmetall. Eher unorthodox und progressiv in der Verwendung von Stilmitteln. Man muss sich auf WIEGEDOOD einlassen wollen und können, gerade bei Samples und Synths sind die Belgier doch recht experimentierfreudig. Aber auch sonst verbiegen sie teilweise die Tracks. Wildheit und Vertracktheit muss sich also nicht immer widersprechen.
Ingo Holzhäuser vergibt 8 von 10 Punkten