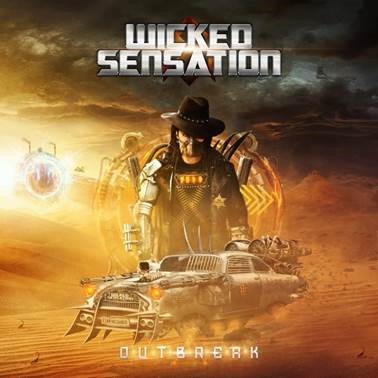 WICKED SENSATION
Titel: OUTBREAK
Label: ROCK OF ANGELS RECORDS/SOULFOOD
Spieldauer: 47:24 Minuten
Accept, Bonfire, Sainted Sinners – die Stationen von Sänger David Reece können sich zweifellos sehen lassen. Nun hat Reece, der auf dem 1989er Accept-Album "Eat the Heat" zu hören ist, sich den Karlsruher Melodic Rockern/Metallern WICKED SENSATION angeschlossen. "Outbreak" ist deren fünfter Longplayer und die Premierenscheibe für den neuen Mann am Mikro.
Während man das hymnische 'Starbreaker' zum Einstieg schon beinahe in Power Metal-Gefilden verorten muss, bietet das folgende 'Child Of Sorrow' eindringlich-melancholischen AOR mit Ohrwurmchorus. Das deutlich gitarrenlastigere 'Light In The Dark' wird zudem durch einen Gastauftritt von Saitenhexer Gus G. veredelt.
Die folgenden Tracks gehen entweder mehr auf die hardrockende Schiene oder schielen Richtung eingängigem Stadionrock. Das grandiose 'Breaking Away' beispielsweise sei hier als Anspieltipp mit gutem Gitarrensolo genannt. Das folgende 'Face Reality' geht wieder eher in Richtung melodischer Ohrenschmeichler mit mehr bzw. offensichtlicheren Keyboardanteilen.
Zum Abschluss geht es mit der beherzten, packenden Midtemponummer 'Step Into The Light' und der emotionalen, majestätischen Ballade 'Tomorrow' etwas ruhiger, aber nicht minder gut zu.
"Outbreak" ist insgesamt ein stimmiger, intensiver Melodic Rock-Dreher mit zehn Tracks ohne einen Ausfall, dem aber auch die ein oder andere so richtig herausragende Nummer abgeht.
Michael Gaspar vergibt 7,5 von 10 Punkten