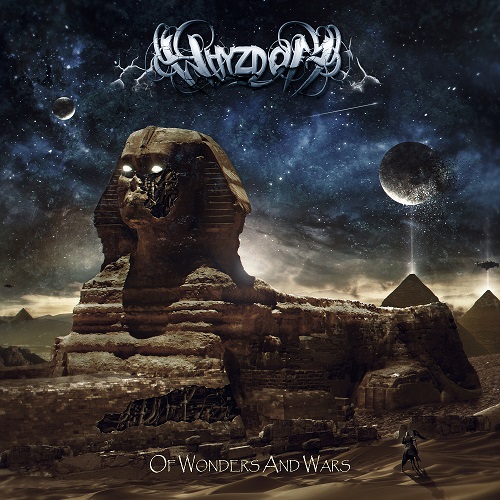 WHYZDOM
Titel: OF WONDERS AND WAR
Spieldauer: 61:37 Minuten
Ein Riesen-Faible für Symphonic, Epik, Filmmusik und Bombast offenbaren die Franzosen WHYZDOM auch auf ihrem fünften Longplayer "Of Wonders And War". Das Quartett schießt musikalisch gesehen aus sämtlichen Rohren, trifft dabei aber erschreckend selten ins Schwarze.
Beginnen wir mit dem Gesang von Frontfrau Marie Mac Loud. Ihre natürliche, rockige Stimme und ihr "normaler" Operngesang sind sehr angenehm und bärenstark. Aber wenn sie die dritte Stufe, nämlich ihren "unglaublichen" Mezzosopran zündet, wird es schwierig, denn da wird einfach zu viel "geknödelt" und zu hektisch und übertrieben theatralisch intoniert.
Die eigentlich guten Kompositionen werden entweder dadurch zerstört, dass sie durch diese übersteigerten, überdramatischen Einsätze unhörbar werden, wie beispielsweise der Opener Wanderers And Dreamers. Oder ein grandioser Beginn wie der von 'Stonehenge' mit seiner Breitwand-Epik aus Orchester und Chören bauen eine Stimmung und Erwartung auf, die der übrige Song und der Refrain oftmals nicht einlösen können.
Oder die Band schießt im Übereifer übers Ziel hinaus und die Tracks werden überladen und wirken künstlich, pathetisch und affektiert. Beispiel gefällig? 'War' mit seinen melodramatischen Orchestrierungen, merkwürdigen, kurzen, männlichen Growls und mehr als üppigen, überzogenen Blechbläserklängen (komisch, hat doch in Jericho damals auch funktioniert).
Doch es gibt durchaus auch ein paar kleinere Lichtblicke und ich bezweifle auch gar nicht, dass hier musikalische Könner am Werk sind. Das eingängige 'Ariadne' ist so ein Beispiel und ein richtig guter Song mit wenig Bombast und Theatralik und das folgende 'Touch The Sky' eine ebenso unaufdringliche, emotionale, packende Ballade.
Der mit Abstand beste Song der Scheibe ist das abschließende 'Notre Dame', weil es hier mit Glockengeläut und angenehmen Streicher-Klängen perfekt gelingt, die richtige, zum Thema und Text passende Stimmung und Atmosphäre zu erzeugen und auch der Chorus mal richtig zündet. Doch ein einziger wirklicher Volltreffer ist einfach zu wenig und kommt verdammt spät.
Michael Gaspar vergibt 4 von 10 Punkten