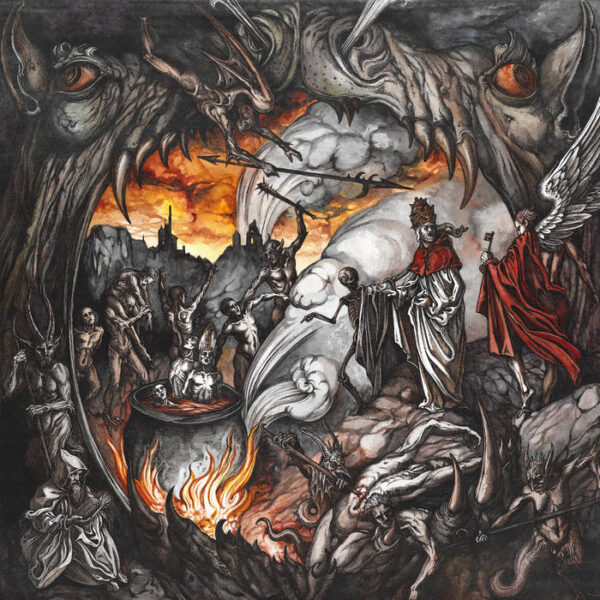 WHOREDOM RIFE
Titel: WINDS OF WRATH
Label: TERRATUR POSSESSIONS
Spieldauer: 44:21 Minuten
Kaum treffender hätten die Trondheimer Black Metaller von WHOREDOM RIFE  ihre dritte Full-Length Scheibe betiteln können. Wie einer rauer Wind über trostlose und bitterkalte Landschaften rauscht uns "Winds of Wrath" brutal ins Gesicht.
WHOREDOM RIFE sind aber nicht die einseitigen Brutal-Berserker. Sie schaffen den Spagat aus epischer, ausladender Stimmung und roher, schwarzer Tonkunst. Gitarren und einige Keyboard Passagen verschmelzen wo notwendig zusammen, die Stimme von K.R. ist immer die Mischung aus dem Hauch perfekten Nihilismus und verzweifelter Melancholie. Einige Melodiebrücken haben sich hier eingeschlichen, die eindringlich und doch so dezent sind, dass man ihre Großartigkeit einfach unterstellen muss. So wie zum Beispiel beim Titeltrack 'Winds of Wrath'. Die furiose Hassepik wie in 'Hav av Skygdoms Blod' ist vertonte Niedertracht in Reinkultur und 'Einride' lebt diese Herangehensweise nochmals archaischer aus. Sprich: WHOREDOM RIFE zeigen die Facetten des Black Metals plakativ und gekonnt auf ohne dabei die Klischees zu überreizen. Im Gegenteil: Sie fahren eine soundtechnisch wie auch songwriterisch Vollbedienung auf mit dem Blick nach vorne und der gleichzeitigen Verneigung vor dem Erbe des nordischen Black Metals.
An Erhabenheit, Dichte, Schwermut bei gleichzeitiger Rohheit, Raserei und vertontem Hass ist diese Werk wohl schwer zu überbieten. Eine durchweg gelungene Scheibe, die Naturverbundheit und Traditionalismus pflegt und gleichzeitig modern und abwechslungsreich klingt. Stark!!!
Ingo Holzhäuser vergibt 9 von 10 Punkten